A bargain for discomfort
Eugene Owusu (not his real name) needed a new sofa to add some spark to his home. Instead of going to town to shop for the furniture, convenience lured him online to a shop floor he had never walked before.
His wife had come across victoriasdecor_­gh, an online furniture shop on Instagram, and recommended it because some of her friends followed that business account.
On August 15, 2021, Eugene, in the comfort of his home, contacted the furniture shop to enquire about a sofa that had caught his fancy, but that initiative landed him in great discomfort days later.
When he called the Vodafone number which was provided on the page, he was directed to a WhatsApp contact on which he transacted business with Victoria Mensah, who quoted the price of the sofa as GHC4,000.
Victoria Mensah asked Eugene to make a down payment of more than half of the cost of the sofa and full payment before delivery but he insisted on making full payment upon delivery.
Eugene was suspicious about the genuineness of the online furniture company. The display photo (what is commonly known as 'dp') of the WhatsApp contact used for the business transaction fuelled his suspicion. It was a photo of Pastor Mensa Otabil's flyer instead of the business logo of the furniture shop, which he expected to see.
But something else countered the suspicion. He saw a business registration certificate with the name VICTORIA DECOR GHANA  with registration number BN616222020 dated July 30, 2020, in one of the story highlights of the Instagram account of the online shop he was dealing with.
When this reporter verified the registration details from the Registrar General's Department (RGD), it was found that the registration number BN616222020 bears the name Pars Kitchen, a food catering business, and not VICTORIA DECOR GHANA. In fact, there is no business registered in that name.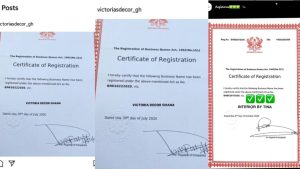 Eugene had no reason to run these checks before buying from the shop. Victoria's "nice customer service" subdued his suspicion, and he opted for same-day delivery. He then paid GHc1500 through Vodafone Cash to 0509504172. That mobile phone number is registered in the name of Victoria Mensah.
Eugene, who lives near Aburi in the Eastern Region, said Victoria claimed she had her shop in the Greater Accra Region.  Many hours after paying the deposit, Victoria's delivery vehicle did not show up. All attempts to reach her proved futile.
It then dawned on Eugene that he had kissed Ghc1500 goodbye to one of the many e-predators.
Feeling there was no use crying over spilled milk, he did not report the fraud to the police.
A huge loss from a big discount
Like Eugene, Dora Kumah (not her real name) needed furniture and also chose convenience shopping online over the hustle and bustle of town shopping. She visited ghanaaffordableexpress, a 'furniture shop' on Instagram she had been following, to check out the items they had advertised on the page.
Impressed by the home furniture on display, Dora messaged ghanaaffordableexpress and the availability of the items was confirmed. Typical of online businesses, she was redirected to a WhatsApp contact on which the real business transaction took place. She engaged the supposed shop attendant' called Lamptey Joseph Mensah.
Unlike Eugene, Dora was offered a good discount of 15% at this shop. But the discount would prove costly later.
Her selection of a six-seater dining set at GHc1,300, a sofa going for GHc2,600, and a television unit at GHc1,150 brought his total bill to Ghc5050. But at 15% discount, she was expected to pay Ghc4292.50.
An additional centre table would increase the total discounted cost to Ghc4500, but Dora bargained for a further Ghc200 reduction, bringing the total cost of the items to GHc4300.
Mr Lamptey asked Dora to make a down payment of half the amount through a Vodafone number he provided before delivery. She was to pay the balance into a bank account, which was not readily provided.
Being a first-time patron of the shop, and an online trader herself, she insisted on making full payment upon delivery, but she was unsuccessful in that regard. They eventually settled on a 40-per cent down payment before delivery of the items.
Mr Lamptey demanded a screenshot of his WhatsApp 'business transaction' with Dora to validate her order because she was not the only 'customer' he was dealing with.
The 40% down payment amounted to about Ghc2,000 but Dora paid Ghc1,700  of that amount via Vodafone Cash to the number 0509414355, registered in the name of Lamptey Joseph Mensah.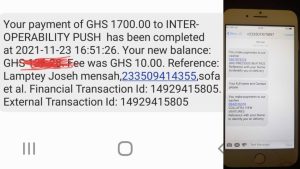 Mr Lamptey told Dora that ghanaaffordableexpress had a showroom at Danfa, which was under renovation because the showroom at Prampram (the location displayed on the shop's Instagram account) was too small to contain goods and customers ahead of a Christmas promotion.
That information was ostensible to assure Dora that the shop was real and that her furniture would be delivered to her doorstep. But Dora was still skeptical, as she expressed concern about fraudsters who duped unsuspecting people in the name of online business.
To further convince her that ghanaaffordableexpress was a genuine business, Mr Lamptey sent a photo of their business registration certificate bearing the name GHANA AFFORDABLE EXPRESS with registration number BN 660820821 and dated August 18, 2021.
According to the RGD, those details are fake. A source told The Fourth Estate that a business enterprise could not be registered with 'Ghana' as part of its name.
Although Dora was not convinced by the 'evidence' of business registration presented, her need for the home furniture pushed her to transact the business and transfer the GHc1700 to Mr Lamptey via Vodafone Cash. Mr Lamptey demanded the balance of Ghc300 to make the full down payment of GHc2000, but Dora insisted she would pay it upon delivery of the items.
Using the GHc300 balance as an excuse, Mr Lamptey told Dora the items would be delivered the next day instead of the same day. That was when reality dawned on her that she had lost her money.
"I've been scammed," she recalls telling herself.
However, Dora hoped her hunch was wrong and that a vehicle would soon pull up at her entrance to deliver the items. After waiting for hours for a call that never came, and sending many text messages that were never answered, she yielded to reality.
Unlike Eugene, Dora would not allow sleeping dogs to lie or leave her matter in the "hands of God" as many Ghanaians would do; she reported the fraud to Vodafone.
On a visit to one of Vodafone's offices, an official of the company showed her some other transactions on Mr Lamptey's Vodafone number but explained that because the monies from those transactions had been withdrawn from his account, there was nothing Vodafone could do to help retrieve the money.
When she visited the MTN office (because she sent the money from her MTN number), nothing positive came out as far as getting her money back was concerned.
Dora subsequently reported the page to Instagram and shared her experience with the fraudulent business transaction on her social media to alert other people about it.
Money bouquet for a birthday
It was a friend's birthday, and Edwin Odoi wanted to surprise his friend with a money bouquet (money arranged like a bouquet of flowers), but a fraudster surprised him with a bouquet of disappointment.
He first contacted the business Instagram account of a popular business known to be genuine for the money bouquet but they were slow to respond. With time ticking, and his friend's birthday drawing closer, he found another business Instagram account – cakes_by_frosty – rendering the same services as the previous one he had contacted.
He contacted them and got a swift response. And they provided just the service he wanted, and more.
Impressive, he thought.
The vendor, a lady, attended to Edwin.  The customer service was impressive and the business transaction took place smoothly.
Edwin had to pay GHc350 for the money bouquet to be gifted to the birthday celebrant, GHc120 for the service rendered and GHc25 as a delivery charge, bringing the total amount to Ghc495.
But he asked for a rebate and was required to pay GHc480, which he sent to the vendor through Vodafone Cash to 0500978408 registered in the name of Irene Botchey.
The transaction was sealed and delivery was to be made in two days' time.
The day before delivery was due, Edwin texted cakes_by_frosty to find out if the order had been dispatched.
The response was silence.
He had been ghosted. He had lost his money, money meant to bring a smile on the face of a friend. It left a sour taste in his mouth, a mouth still gaping with shock.
After that experience, Edwin reported the number to Vodafone but not to Instagram.
According to him, Vodafone did not respond to the messages he sent via their helpline; neither did they help when he contacted their customer service.
Edwin subsequently posted on Twitter to alert others to be wary of such scams.
His tweet attracted a lot of comments from people who had fallen victim to the same account.
The craving for iPhone 11 and the 'iconic' treatment
Alice fell victim to the e-commerce scam and reported her swindlers, iconstore.gh, a gadget store business page on Instagram. She also reported to the Cybercrime Unit of the Ghana Police Service at the Police Headquarters in Accra.
She had made part payment of Ghc1,900 via Mobile Money transfer to 0542016318, a merchant number in the name, Collafra View Ventures to buy an iPhone 11 from iconstore.
The online gadget store, according to Alice, was running a promotion on some Apple products, and having been attracted to the iPhone 11 handset advertised, she called the number displayed on the page. But each time she called, her selected products were sold out because it was a 'Fastest Fingers First' promotion' that meant the first person to make payment got the product.
Three weeks after failed attempts at being the first with the fastest fingers, Alice thought grace had finally found her when her fingers struck first.
The discounted price of the iPhone 11 was Ghc2,900 and she was asked to pay Ghc1,900 upfront before she could pick up the mobile phone handset at the shop said to be located at Dzorwulu, opposite The Cafe Bar Noir. Alice promptly paid the money via MoMo and the payment was confirmed by the gadget. But she soon sensed she had been scammed.
She rushed to the location of the store as displayed on its Instagram account but it was non-existent.
She then reported the number to MTN and was told she could retrieve her money between five and 15 working days if it had not been withdrawn.
Luckily for her, and true to the words of MTN, Alice managed to retrieve her Ghc1,900.
But she declined to withdraw her case from the Cyber Crime Unit of the Ghana Police Service because she wanted the law to deal with the fraudsters.
Alice also reported the account of iconstore.gh to Instagram using a friend's account but the Instagram page was still active at the time of filing this story.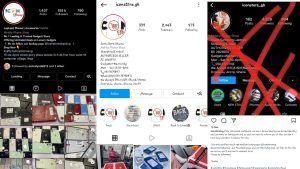 Social media platform operators
According to the terms of use of Instagram, "You can't do anything unlawful, misleading, or fraudulent or for an illegal or unauthorized purpose.' 
The Help Centre of Instagram tells account holders: "Keep in mind that your report is anonymous, except if you're reporting an intellectual property infringement. The account reported won't see who reported them."
Efforts to contact Instagram for comment proved futile, as the email address used – [email protected] – sourced from Google, was not functional.
Also, efforts to contact Meta, the headquarters of Facebook, Messenger, WhatsApp and Instagram, through their Twitter account for comments, were not successful.
Predominantly Vodafone Numbers
One common thread that runs through the activities of scammers is the use of Vodafone numbers to receive the money. In the cases we investigated, it was only in one instance that they used an MTN mobile network number to receive payments.
That was in the case of Alice, but MTN acted with the complainant to get her money back.
Given the fact that the numbers used by the scammers were mostly Vodafone, this reporter contacted the Public Relations Officer (PRO) of Vodafone Ghana, Daniel Asiedu, via his email address on February 4, 2022, but he has not responded at the time of filing this report.
Detecting online fraudsters
From the accounts operated by the fraudsters cited in this story and others investigated, some factors give clues about their fraudulent nature.
First, some posts made by victoriasdecor_­gh's were found on another page – beckysinteriordecor.
Second, a business registration certificate was found on beckysinteriordecor dated October 6, 2020, with registration number BN862972020 but another account, interiors.by_tina, had the same registration certificate displayed on its page.
Third, the phone number displayed on ghanaaffordableexpress (0208444380) is the same displayed on express_market_price, another vendor on Instagram selling furniture.
Fourth, the posts and other contents of the three accounts mentioned above are all the same and feature the same clients.
Fifth, one of the accounts – beckysinteriordecor – has changed its username nine times since it was opened in February 2018, while  interiors.by_tina has changed its username 12 times since May 2021.
Sixth, the account which denied Edwin the pleasure of giving a money bouquet birthday gift to his friend – cakes_by_frosty – has changed its username 10 times since March 2021.
Seventh, the icon store (iconstore.gh) has changed its username three times since December 2021.
Under the guise to purchase a phone from iconst0re.gh, we found out that there is another account, iconstoreng. This is the original account from which the fake store, The Icon Store Ghana  (iconst0re.gh) copies their content to post on their page to defraud unsuspecting people.
The original physical store located in Nigeria, posted on their account to be wary of the Ghana account using their content to scam people online.
We reached out to iconstoreng, the original store to ask about the fake store in Ghana. They mentioned that they had received complaints from people who have fallen victim to the fake store.
On February 5, 2022, the police arrested a 32-year-old man for defrauding dozens of people on Tonaton and Jiji, two other popular online business platforms in Ghana.
Suspect Raphael Kle, according to information provided by the District Police Commander for Kasoa Central, Chief Superintendent Timothy Dasaa, advertised a house built by his late father under the pretense of providing decent accommodation to interested persons.
Raphael Kle would go into hiding after receiving payments from interested persons, making it difficult for them to reach him. Attempts to reach him at his residence also proved futile since he surrounded his residence with wild dogs and CCTV cameras to scare away his victims.
The suspect who had been on the police wanted list for many months, had about 30 cases against him at the time he was arrested.
AGI, EOCO concerned
Businesses are not exempt from internet fraud. The Association of Ghana Industries (AGI) says, as part of plans to protect its members from falling victim to internet fraud or cyber fraud, it has introduced an authenticating system.
The AGI is encouraging its members to go digital in line with global trends, but it advises them to be vigilant and do background checks before venturing into transactions online.
The AGI has launched a project to help combat Internet fraud. The Kadodo Africa Project seeks to restore the trust of customers in local businesses by profiling and authenticating Ghanaian and African businesses under strict procedures to guarantee the safety of businesses on the Internet.
The Executive Director of the Economic and Organised Crime Office (EOCO), COP Maame Yaa Tiwaa Addo-Dankwa, has advised Ghanaians, especially the business community, to be wary of the "emerging force in online businesses".
EOCO has subsequently launched a campaign to clamp down on such miscreants and protect individual businesses.
The traditional media are awash with stories of these fraudsters, and it is important for the public to watch and stay away from them.
You may also be interested in: 
The dubai in Cote dÍvoire: scores of Ghanaians lured an trapped in QNET
The writer of this report, Josephine Badu-Nyarko, is a Fellow of the Next Generation Investigative Journalism Fellowship at the Media Foundation for West Africa.