The victims are varied. They include a police officer, a teacher, a former NABCO employee, and the reigning second runner-up of "Ghana's Strongest" bodybuilding competition. But their aspirations, journeys and fates are similar. 
They were promised mouth-watering salaries in France and Dubai. They were asked to pay money they didn't have. They were directed to go to Cote d'Ivoire for the final preparation for their journey. With borders closed due to Covid-19, they embarked on perilous journeys through unapproved routes. But they all ended up wasting away in Bondougou and Abidjan, some sending SOS calls to Ghana, while others engage in the criminality that landed them in the mess.
The Fourth Estate learns, through the eyes of some victims, of an illegal network that lures youths from across West Africa to Cote d'Ivoire in a massive scam and now reports.
---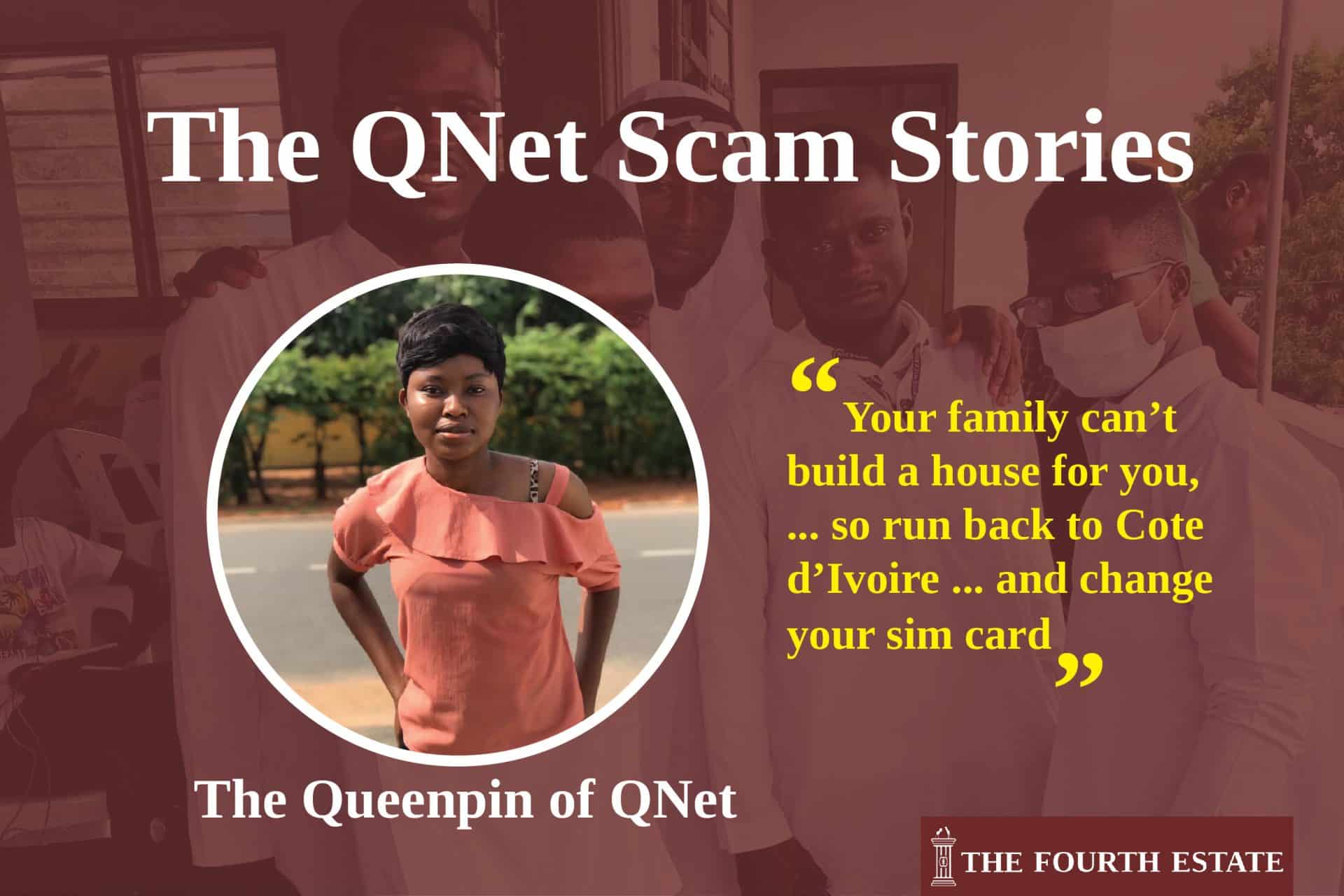 When Richmond Odum arrived in Cote d'Ivoire, his intention was to spend two or three days processing his documents for his much-anticipated travel to Dubai.
He was full of expectations and made a mental note of how to celebrate an end to his hustles. His new elevation from a cleaner, whose salary could barely last for two weeks, to an employee of the global logistics firm, DHL, in Dubai, was a dream come true.
But he would be rudely awakened by the shocking realisation that Cote d'Ivoire was going to be his final destination. His new job, home, and the benefits he looked forward to would forever remain a distant, elusive dream.
He had been trapped in a web of deceit that had proven inescapable to some victims that had been caught in the same scam. And he would spend the next few weeks fighting for and plotting his escape.
While Richmond was still struggling to take in all that had happened to him, his supposed employers shocked him even more with another instruction.   He was asked to lure two more people to do the same job he was brought to Cote d'Ivoire to do–scamming. They claimed it was network marketing, but saying so would not entice people to pay so much to get to Cote d'Ivoire. So he was to lie to them the same way a trusted friend had lied to him. That was the only way, they told him, he would get the money they had taken from him back.
His two would-be victims were to pay the same amount Richmond had paid to arrive in  Cote d'Ivoire to enable him to recoup his money, they told him.
To help him execute this scandalous plan, the ring leaders of the network took Richmond through a "re-orientation" after they told him that there was nothing like jobs in Dubai or Paris as he had been promised.
Richmond said the "re-orientation" was the beginning of a battle with his conscience. He could not accept the new offer.
 "This place was not meant for me," he told The Fourth Estate. He was not a scammer. He believed in honest labour. It was the reason he was dedicated to his job as a  cleaner until, one day, a seemingly more ambitious former colleague at the cleaning business messed him up.
Richmond was busy at work that fateful afternoon when he received a WhatsApp message from Ebenezer, a friend, and former colleague. Ebenezer used to work with Richmond in the same cleaning company in Ghana's capital, Accra.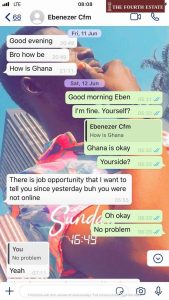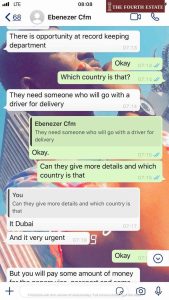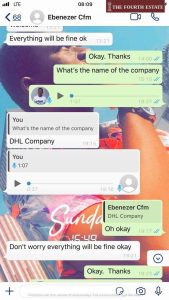 Screenshots of WhatsApp conversations Ebenezer had with Richmond, announcing the job opportunity.
Richmond, 28, a supervisor at the Cities Facilities Management Company had not heard from Ebenezer in a long while until that afternoon of June 14, 2021.
"There is an opportunity at the record-keeping department. It is Dubai," the first message from Ebenezer said.
Richmond was promised a monthly salary of GH¢4,000, more than three times his GH¢1,200 monthly pay at the time. It had taken him five years into his job to reach that salary level. He had started as a cleaner and risen to a supervisor.
Working as a janitor was supposed to be a means to an end. So, while at it, Richmond completed a certificate course at the National Film and Television Institute (NAFTI) in 2017.  He tried to top this up with a diploma from the same institution. The tuition fee was  GH¢3,000, but he said he was only able to pay GH¢2,000. For falling short of GH¢1,000, his goal of furthering his education was cut short.
He channeled all his energy into his cleaning job and earned a promotion. That was when he met Ebenezer. The two bonded very well and trust was not a deficit in their friendship. It was the reason Richmond did not doubt the message he received from Ebenezer about the DHL job offer in Dubai.
His challenge was the fee of GH¢ 8,000, which, according to Ebenezer, he was supposed to pay DHL's agents to facilitate his travel. It was more than six times his monthly salary. But the offer was too tempting to ignore.
"It is fees for processing of documents," Ebenezer told him. The deadline for the payment was June 28, 2021.
Richmond's fundraising abilities, which had failed him in trying to get a Diploma at NAFTI, were tested again.
"Even if it loans you can get it. So, make ward [wild], and let's see what will happen," Ebenezer urged.
On June 18, Richmond said he reported his fundraising progress to the supposed agent of the company Ebenezer had recommended to him.
"Good morning. Please I have been able to get GH¢4000 of the amount. Can you help me get the job?" Richmond said in his initial message to the supposed agent, who was said to be based in the Ivory Coast office of DHL.
The agent would not help Richmond with that amount of money, which was only half of the required "processing fee".
Richmond said he did not give up. He reached out for assistance from his father, a cocoa farmer in the Eastern region of Ghana who managed to give him GH¢2,000, making a total of GH¢6000. He was still left with GH¢2000, but the agent was prepared to help him on grounds of compassion.
On June 19, 2021, at noon, Richmond bid goodbye to his work and began his journey from Accra to the western border town of Elubo, about 423 kilometres away. From there, he would figure out how to get to the Ivorian capital even though the borders were closed.
At 09:39 the following morning, Richmond arrived in Abidjan through cross-border transits, some illegal. At Abidjan, Richmond said he was met by a woman, only known as Priscilla, who ushered him to a temporary place of stay.
He said on arrival, his host demanded the GH¢6,000, which he paid without being given any receipt. She told him the name of the organisation hosting him was Qnet.
Qnet runs two offices for their operation. The one in Bondougou is painted in DHL colours. The other one in the Ivorian capital, Abidjan, is not painted in DHL colours, but Richmond said the staff wore DHL-branded attires. All other gadgets in the office, including screensavers of their computers, had the DHL logo and colours.
This was to lure many others into believing that the company was indeed DHL when they took photographs and sent them to their potential victims back in Ghana.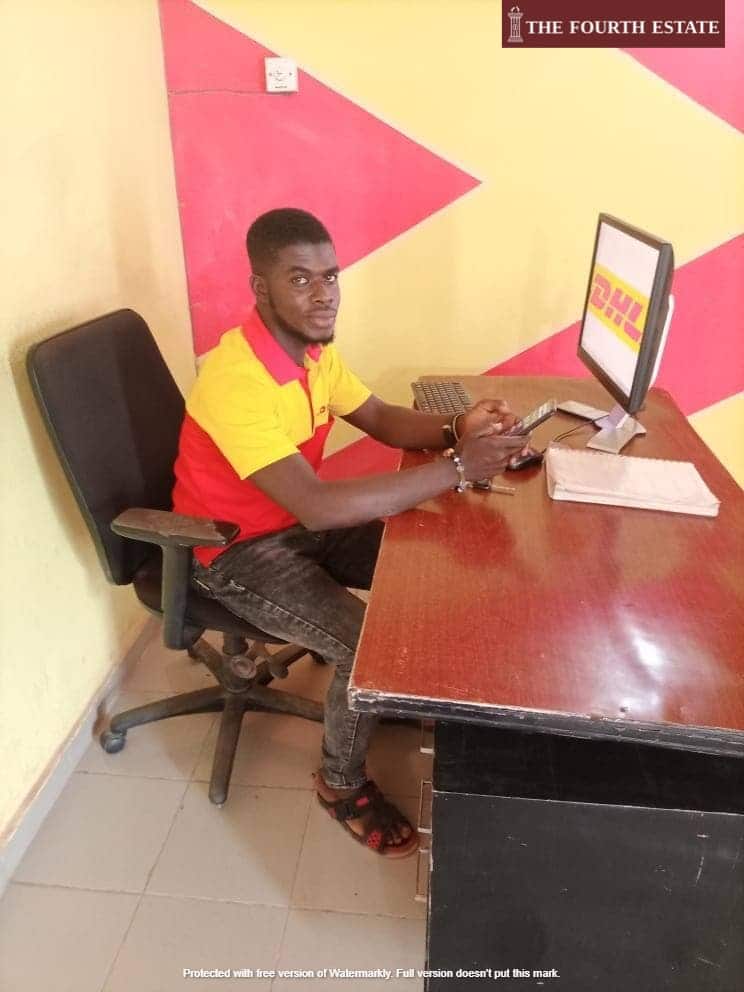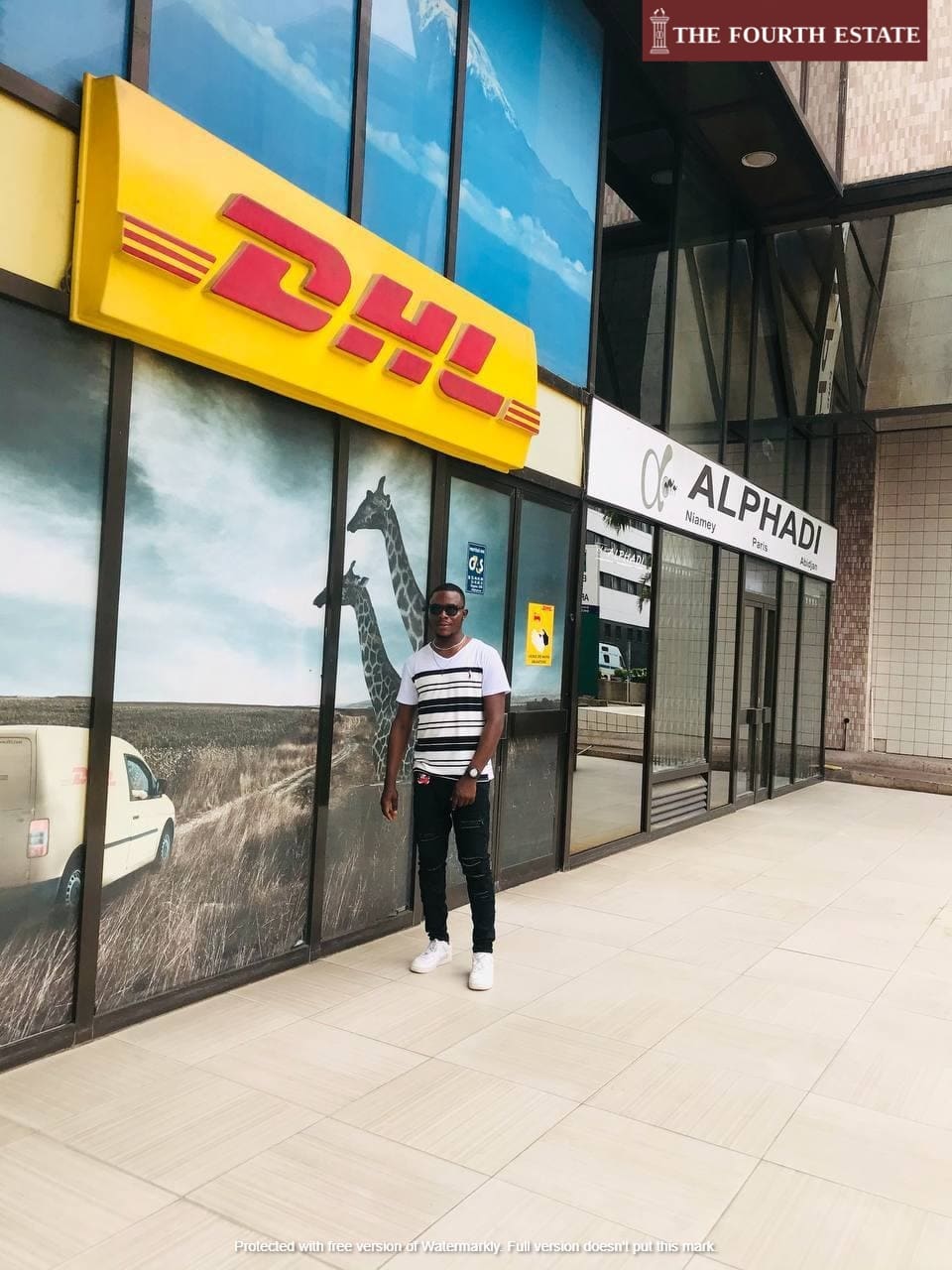 Richmond said there is a place in Cote d'Ivoire called Plateau, with high-rise buildings, suggestive of a well-developed European city.  The Qnet scammers in Abidjan often took photographs here, sometimes at the offices of DHL in order to lure their victims.
Like Richmond, many others fell for the scam and got trapped.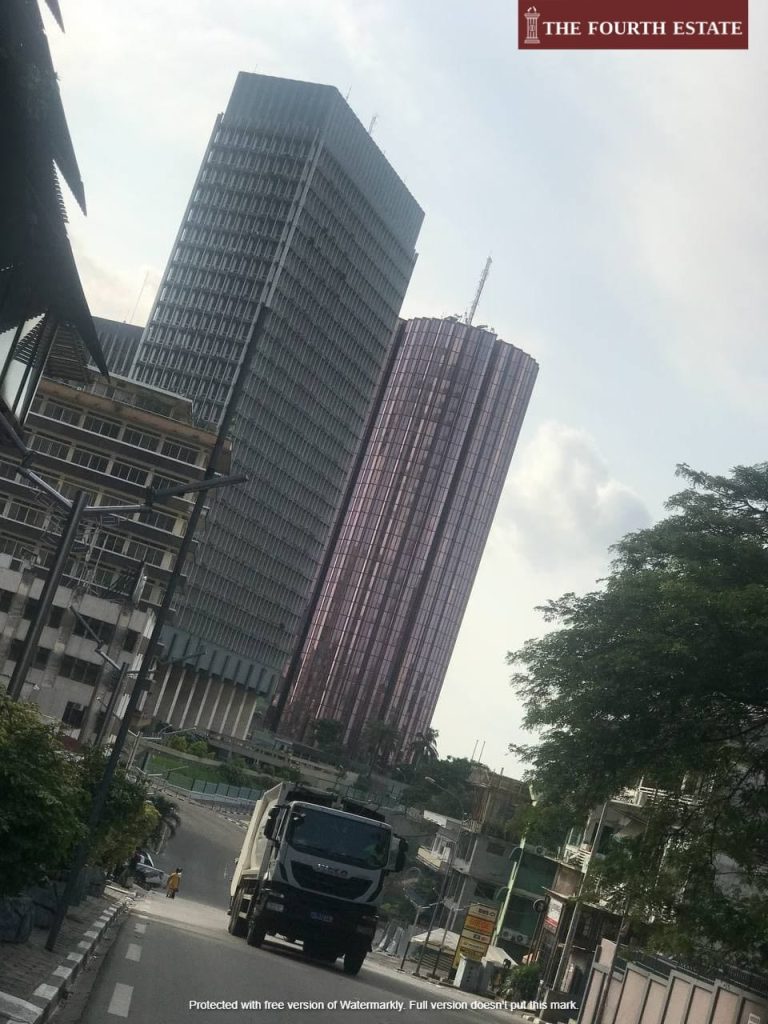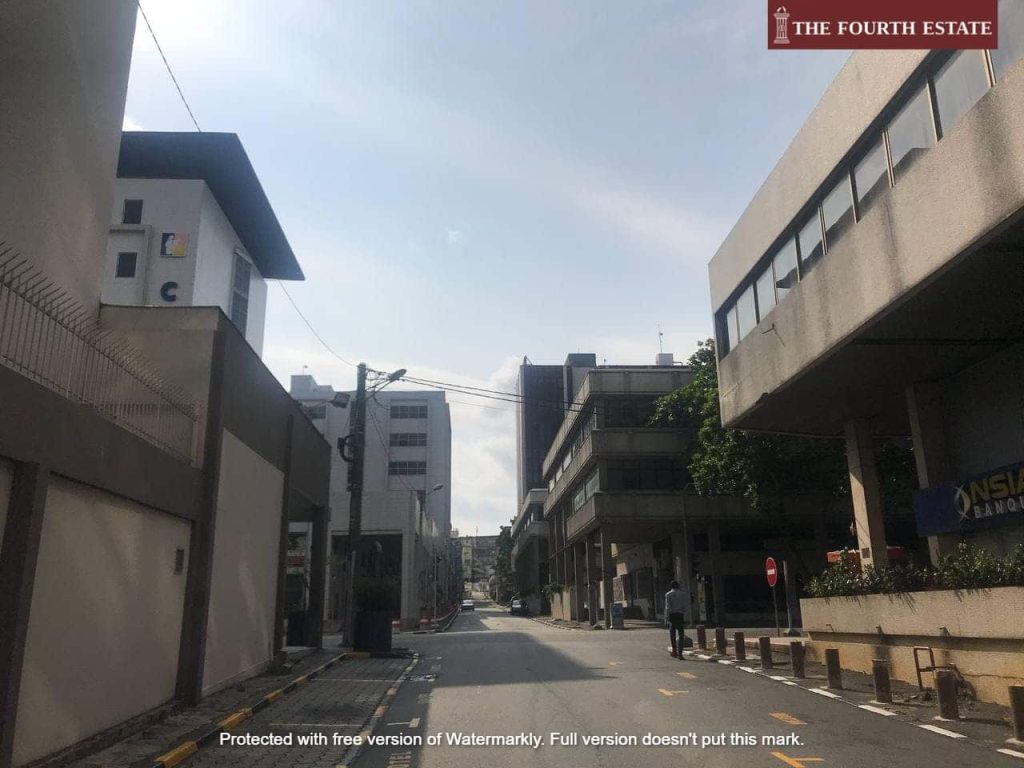 Some of the high-rise buildings in Plateau in Abidjan, where Qnet operatives take photos used to scam unsuspecting QNet victims. 
An ill-fated faith in Pastor Faith
When the opportunity to travel to Paris was put before 28-year-old Grace, she initially rejected it in her head, but she could not do so with her heart.
Grace is a third-year Purchasing and Supply student of the Kwame Nkrumah University of Science and Technology (KNUST). Like Richmond, the stark reality hit her when she got to Cote d'Ivoire.
"It was a surreal scene," she told The Fourth Estate.
"My thoughts were in a swirl. I felt disoriented; my head was throbbing. But my mind raced through options to get out of this situation without being hurt," Grace recalled her anguish when she finally discovered she had been scammed.
Grace had completed Ho Polytechnic in 2017 with a Higher National Diploma in Logistics and Procurement. But the only procurement she was doing was buying ingredients and making local drinks at home for sale in Hohoe, Volta Region. She said she had always felt underemployed at home and was desperate for an opportunity in the formal working environment.
When she was not making or selling drinks, Grace was often in the Baptist International Church, leading the congregation to worship and praise God. It was her attachment to church activities that helped her see the 'job advert' posted on the church's WhatsApp platform. Grace said she felt her prayers for an elevation had been answered.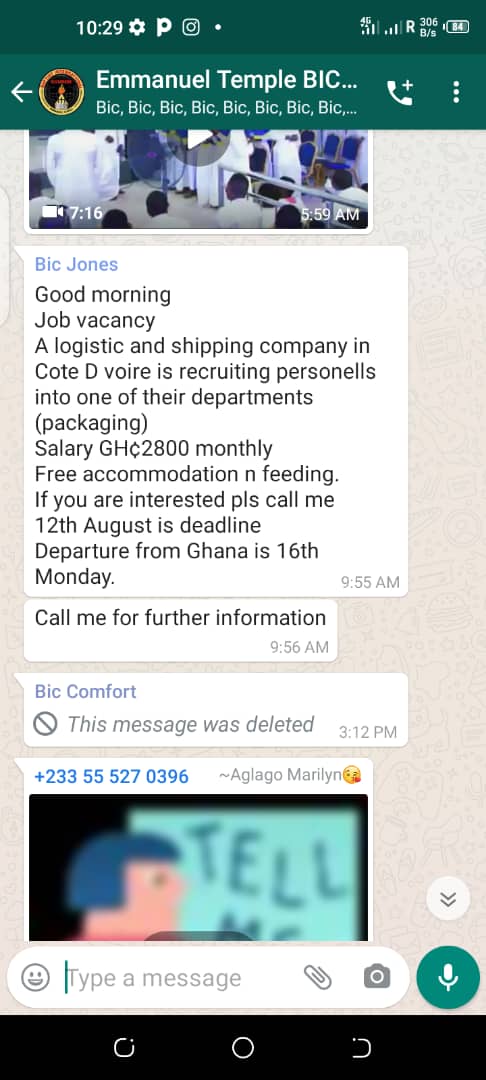 Grace reached out to her pastor for details about the job. She was not the only person interested. She said her pastor, who shared the message, also wanted the opportunity and was ready to abandon the congregation for greener pastures too. Her pastor referred her to the actual source of the information he had posted on the platform.
The original source of the message, according to Grace, was Faith Amevor, also a pastor.
Grace knew Faith Amevor very well. He had been a family friend for almost two decades. Grace's father owns a private school and Faith's mother also runs a private school. These mutual interests united the two families and that's how come Grace knew Faith quite well.
Pastor Faith, as Grace called him, left his pastoral work in Ghana and said he was working in France, where he had found better economic opportunities. That's what he said when Grace contacted him. He said he had even found a job for her too. It was to be in the packaging department of a company in Paris, France.
Pastor Faith told Grace she would be paid GH¢2,800 a month. To facilitate her travel, she had to raise GH¢6,000 and move to Cote d'Ivoire, where her documents would be processed for her final destination in Paris.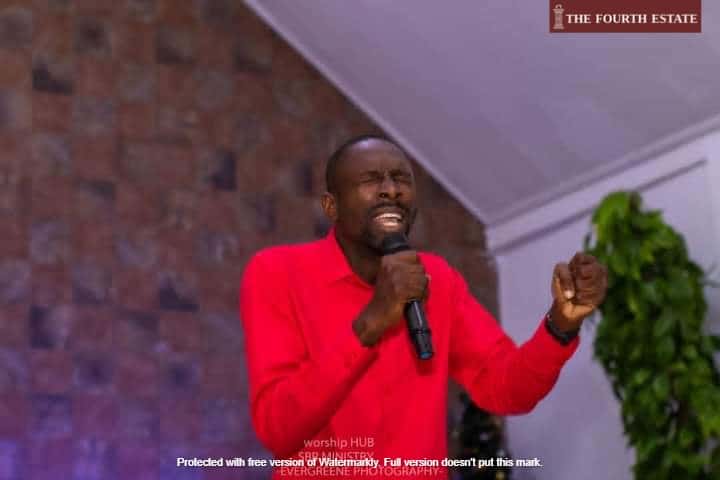 Based on their relationship, Grace said her faith in Pastor Faith and his offer was high. After all, Faith is a pastor. And his father is a pastor.
"Because he is a pastor, nobody was expecting that he would do something bad. We didn't even think about it," Grace's twin sister, Lai Lumor, told The Fourth Estate. "All we were thinking about was how to raise the money," Lai Lumor said.
Grace said she asked her twin sister, Lai, to assist her to raise the GH¢6,000 and an extra amount for the journey. Lai contracted a loan of GH¢4,000 from her workplace, a savings and loans company in Hohoe. She got an additional GH¢2,000 support from their father.
When the money was ready, Grace abandoned her small drinks business and set off to Abidjan, carrying with her the hopes of the family. Grace said pastor Faith had impressed on her to send the money to him even before she arrived in Cote d'Ivoire.
The journey to Cote d'Ivoire was another ordeal. Ghana's land borders had been closed since April 2020 due to the Covid-19 pandemic, so she had to use unapproved routes. She traveled from Hohoe to Kumasi and boarded a bus to Sefwi- Osei Kojokrom. At a point, she had to be transported on a motorbike, riding through a forest in Sefwi at 4 a.m.
From the torturous journey through the forest of Sefwi-Osei Kojokrom in the Western-North Region of Ghana, Grace arrived at Nyable, a community bordered by the Comoé District in Cote d'Ivoire. There, she boarded a car to Abidjan, completing a journey of almost a thousand kilometres away from Hohoe.
A day after arrival, her real job was introduced to her. She was supposed to lure others to Cote d'Ivoire the same way she had been lured.
"All my documents were taken from me," she said.
She said the so-called agents seized all forms of identification from their victims. Richmond said his IDs were taken from him too.
He said about seventy other colleagues who were held against their will in Cote d'Ivoire had no means of escape if they wanted to return to Ghana. They had no ID cards, travel insurance, or money for the purchase of personal effects.
"This place is not meant for me"
Richmond said the first meeting he witnessed was in a compound, like a porch. He said he could count at least 27 youths, many of them Ghanaians and several English-speaking West Africans.
Before the "class", a young woman in her late 20s stood in front of a whiteboard to teach. That day's lesson was on network marketing.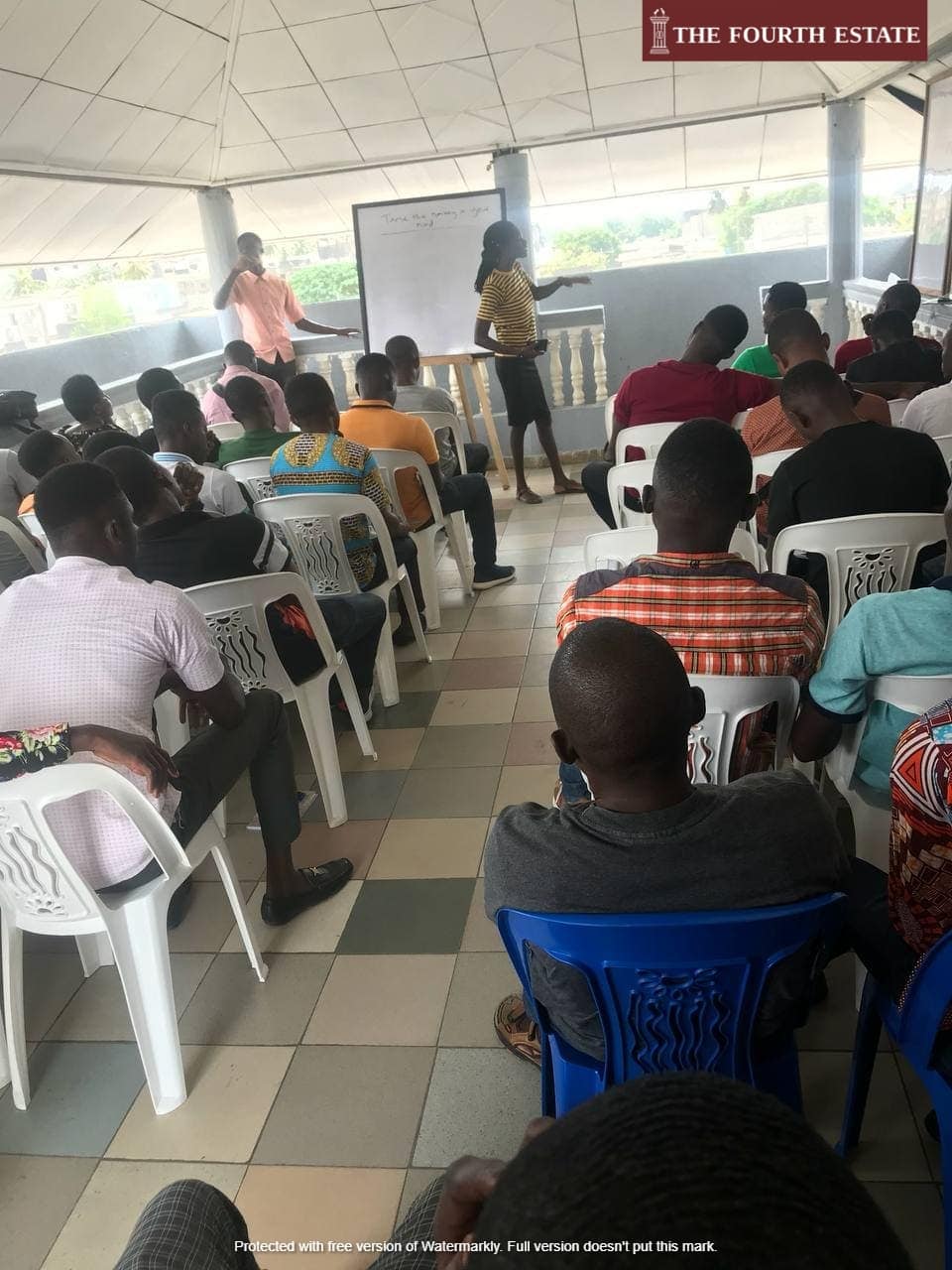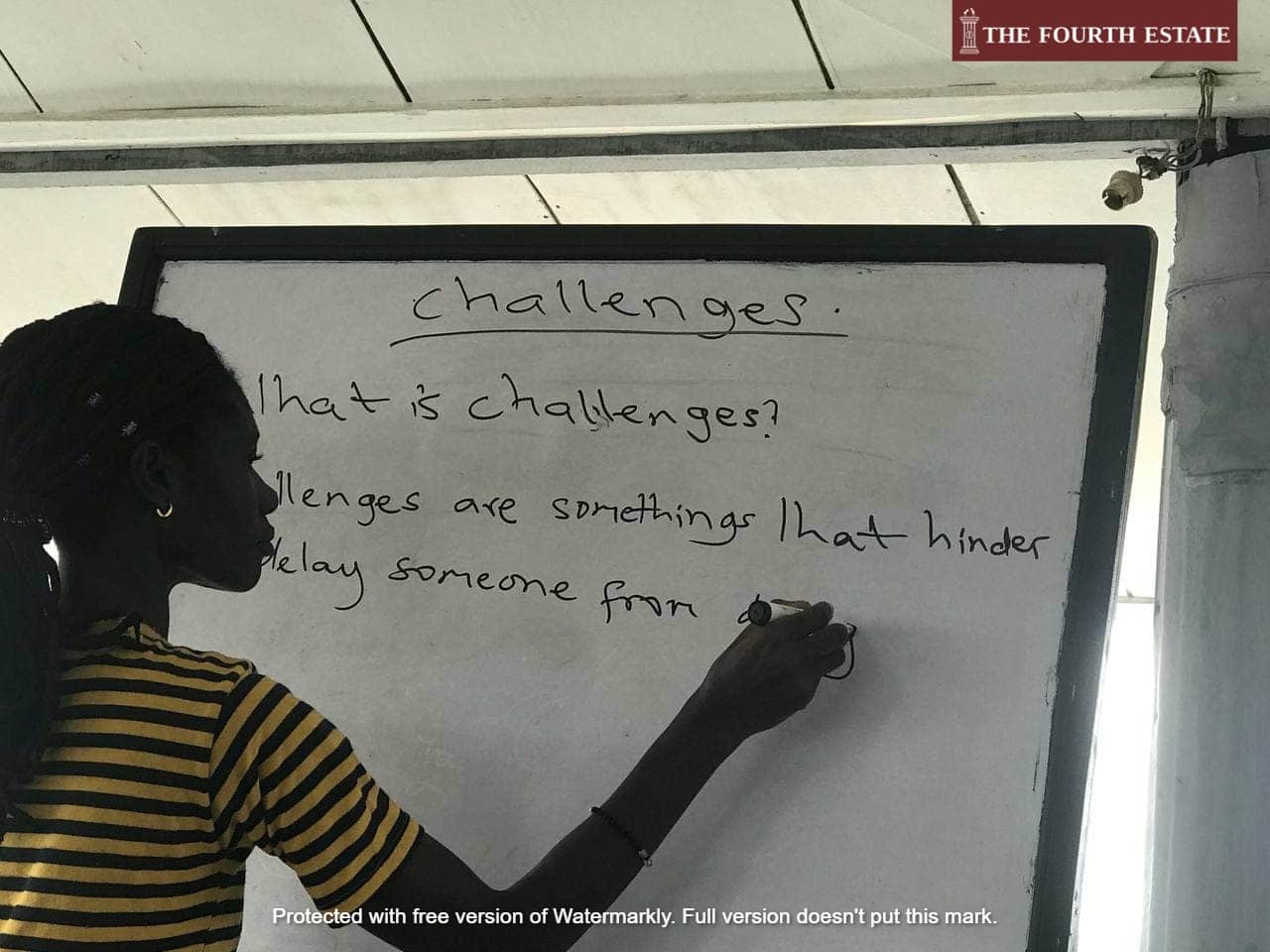 "Well, they call it a 'strategy'," Richmond said, "but I call it a lie, and they will teach you how to lure your friends into the business."
Part of the strategy was make-belief. Richmond explained that all recruits were taken to Plateau for picture sessions, which they would use to convince their circles of friends that they were either in Dubai or Paris.
"Those friends are your circle of influence who can believe anything you tell them," Richmond explained.
Grace Lumor also explained her shock at the purpose of that session. "They were introducing network marketing, Qnet, to me that that's what I was supposed to do. What I had to do was bring two people and then I would get a commission."
Another victim, who wants to remain anonymous told The Fourth Estate a similar story. "Upon my arrival, she [Priscilla] took me to a hotel for about three days before sending me to their office to make the payment for 520,000cfa [ an equivalent of GH¢7000 at the time the payment was made].
He said the following day, he was introduced to the job offer.
"I was introduced to the business and it is Qnet, which I had never heard about in my life. I was told to bring two people with the same amount of money before I could start earning money because my success depended on the two," he recounted to The Fourth Estate.
There was no mention of actually working in Dubai or Paris.
Impersonating Qnet
Qnet Ltd, formerly known as QuestNet, GoldQuest, and QI Limited, is a Hong Kong-based multi-level marketing company owned by the QI Group. According to the company's website, it deals in products that include energy, weight management, nutrition, personal care, home care, and fashion accessories on an e-commerce platform. Their activities have, however, been outlawed in countries such as the USA, Canada, Australia, Rwanda, Iran, Sri Lanka, Syria, Afghanistan, and La Cote d'Ivoire.
For Richmond and Grace, until that meeting in Abidjan, they had never heard of Qnet.
Richmond said when he enquired about when he was to begin the real work in Dubai, all he got was excuses. He then texted Ebenezer, his friend, and former cleaner who had sent him the "job opportunity". But Ebenezer asked Richmond to remain calm.
On July 10, 2021, Richmond texted one of his "bosses" again to ask her about what exactly the job offer was.
"Good afternoon, please. I want to go home ASAP," Richmond said in the text message. When asked what the problem was, Richmond said, "Nothing. I just want to go home. I'm not okay with this place." His boss tried to calm him down, but Richmond said he was determined to leave with his money.
On July 15, 2021, Richmond sent another lengthy message asking for a refund of the GH¢ 6,000 he had paid on arrival.
"You can't get your money back. Talk to your leader," he was told. That leader was the person who had invited Richmond to his new job. In this case, Ebenezer, who was supposedly enjoying his non-existent work in Dubai. Ebenezer was in Bondoukou while Richmond was in Abidjan.
Richmond said he was firm in demanding his money. He said his Abidjan bosses tried other ways to get him to stay, but they failed.
"I told them that we could talk for years, but the only thing I needed was my money. They then asked that we go to the office so they give me my money."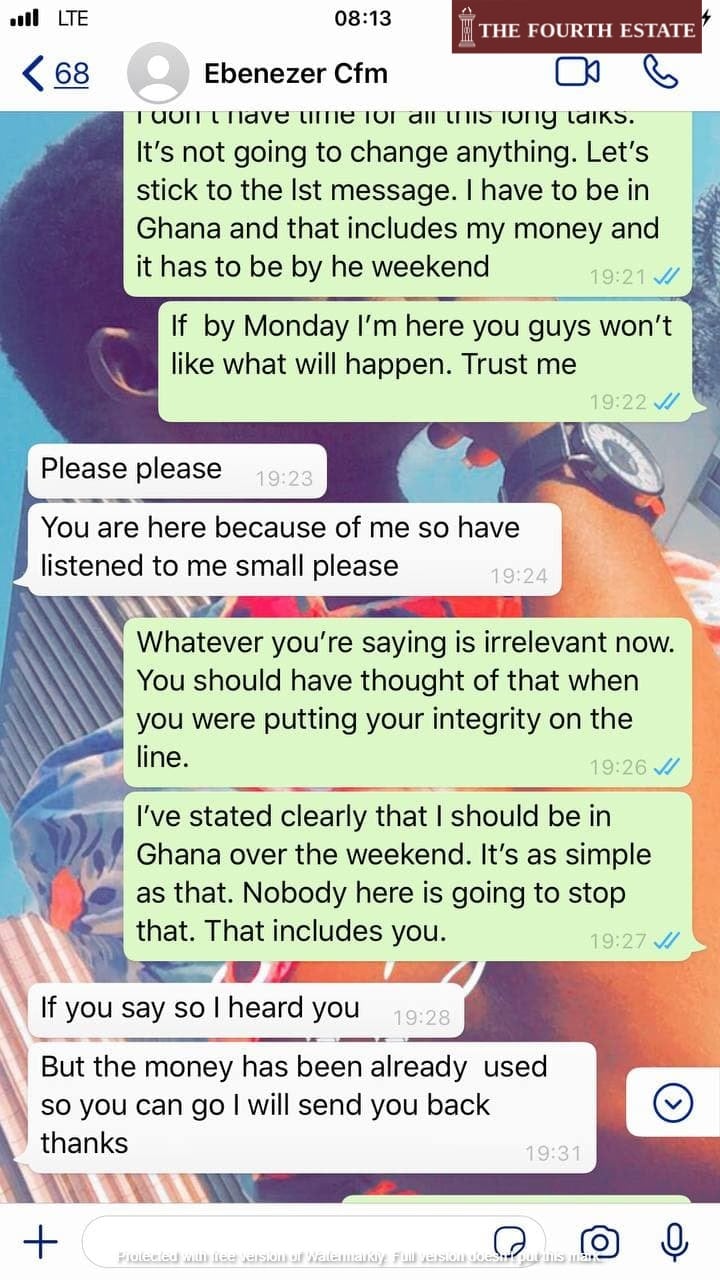 The company offered to pay him in installments, the first of which was a GH¢1,000 refund. Richmond refused and asked for the full amount. He was given GH¢4,000 at last when a scuffle ensued and he threatened to go to the police to report the matter.
Unlike Richmond, Grace got nothing back.
Grace sends SOS from Abidjan to Hohoe 
Making calls in the camp was forbidden to the recruits unless the call was about convincing others on their contact list to join the network. Otherwise, Qnet agents kept the phones of their victims against their will.
Grace, however, came up with a plan. She told her "boss" that she wanted to send money home via mobile money. Sending that money would indicate that she was fine and working.
It sounded convincing enough so she was allowed a moment with her phone. While sending the money, the subscriber would be asked to enter a point of reference. At the point of reference, she wrote an SOS message, calling for her rescue.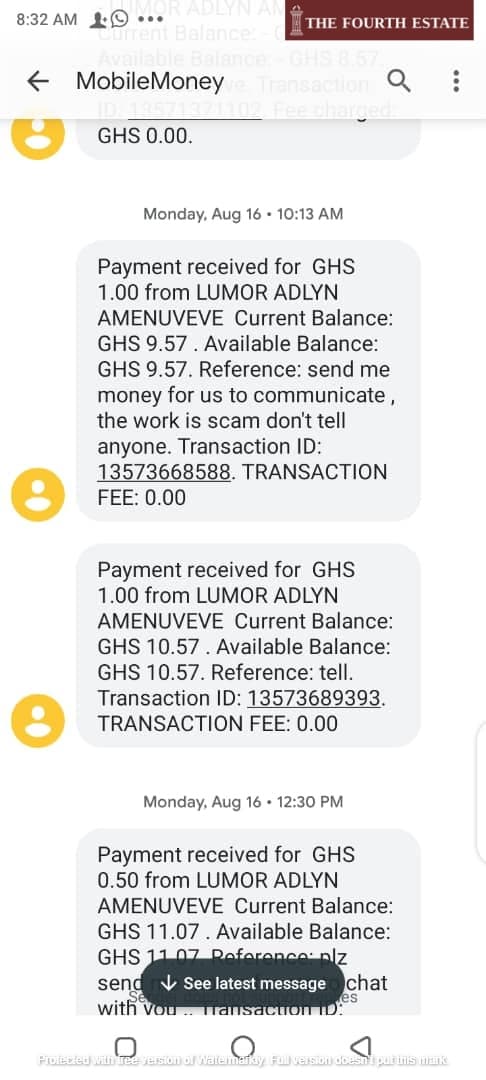 A mobile money payment reference by Grace read: "Send me money for us to communicate. This work is a scam. Don't tell anyone."
Her family got the hint. Back at Hohoe, Grace's family was preparing to meet Ghanaian National security officials and Officials of Ghana's Embassy in Cote d'Ivoire to help rescue their daughter.
The rescue effort took two days.
Grace said her manageress, Priscilla Adzadzah, and pastor Faith Amevor tried to convince her not to meet her family. In order not to give away the location of Qnet's 'camp', she said her 'bosses' also took her to a facility far from the Qnet hostel to meet her rescuers, which included her family.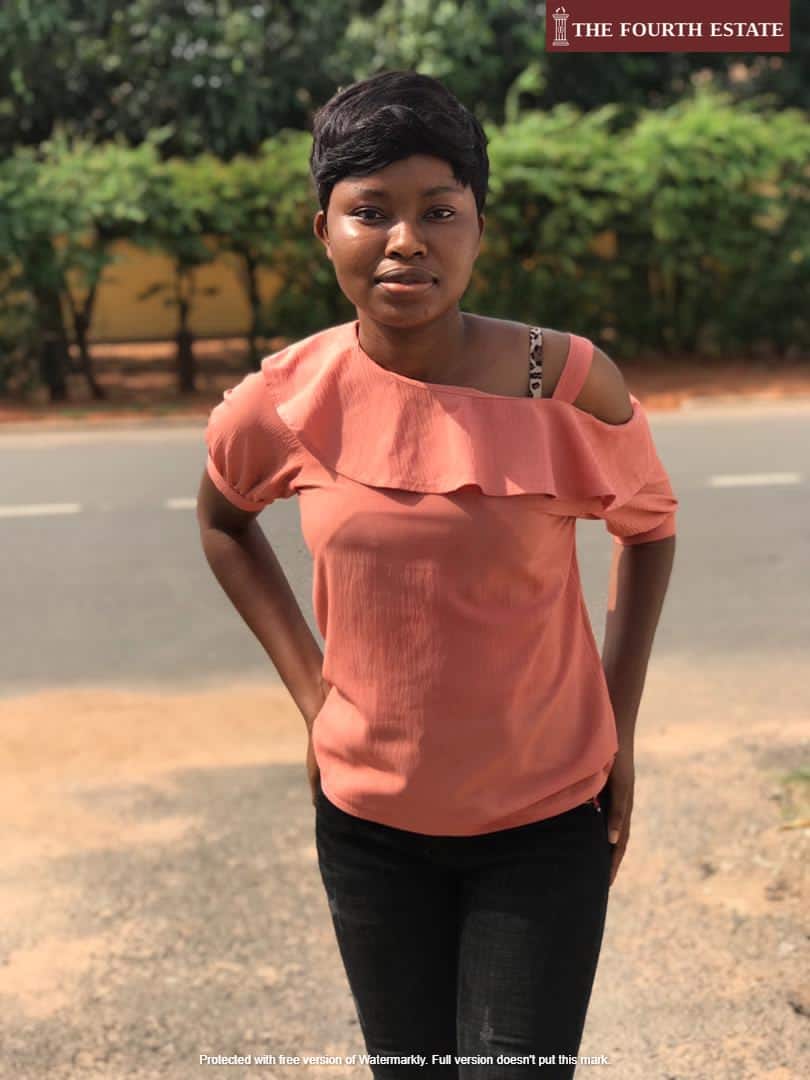 Her twin sister is surprised why the embassy officials, the National Security and the rescue team did not arrest the leaders of Qnet since.
On Sunday, August 21, 2021, Grace arrived in Ghana. But Qnet would not give up on getting her back. Grace said one of her bosses, Priscilla, called to warn her not to disclose their trade secrets to her family.
In a telephone conversation made available to The Fourth Estate, Priscilla advised her to get back to Cote d'Ivoire as early as possible.
"They can take care of you and all that but they can't build a house for you," she tried to get Grace to see things the Qnet way.
"Just accompany your family to Ghana. When you settle a bit, run back to Cote d'Ivoire and change your SIM card so that they cannot get through to you," Priscilla urged Grace to abscond.
"If you don't have money, you can call me so that I can send you money…..we are also your new family, we can take you as our new family member," she said, not knowing Grace was the one who instigated her rescue.
But Priscilla would not end the conversation without asking Grace to recommend another person for the non-existing job in Paris.
"If you get any person who may be interested, kindly convince him and give my number to him so that by the time you get back, your account would have been credited."
Another anonymous victim who also narrated his account to The Fourth Estate said most of them were unable to return home because of the debts they left behind.
"Most of us are here just because we feel if we go back, it will be a shame. I talked to a few people and one Togolese told me if she returns, the father will die because of the money he borrowed. Food to eat is a problem," he said.
Picking up the pieces
Grace's twin sister, Lai Lumor, used to take home GH¢ 642 as a salary. Last month, however, Lai's take-home pay did not get her home due to the loan repayments. She said her salary, after deductions, was now GH¢ 342 and her loan repayment is expected to end in August 2022.
Richmond is back in Ghana and is putting his pieces together.
"I met with a friend who also cleans so we could put up our own company," he said
His father is yet to know he is back in Ghana. "I am waiting to go and see my dad and tell him, face-to-face," he said in July 2021.
It is not clear if it is the same Qnet that is sponsoring the CAF Club competitions –CAF Champions League, Confederation Cup, and Super Cup.
The Fourth Estate sent written questions to the Qnet Headquarters via mail since October 5, 2021, but did not receive a response at the time of filing this report.
However, global logistics firm, DHL, has dissociated itself from QNet when The Fourth Estate reached out to them via email, promising to investigate the matter further.
"DHL can unequivocally confirm that we are not affiliated with QNET Business, and under no circumstances has DHL instructed QNET Business to recruit people for positions in Dubai, Côte d'Ivoire, France, or any other region. Until today, DHL was unaware of any scheme by supposed agents of QNET Business in Côte d'Ivoire recruiting applicants for job opportunities in the name of our organization," part of the statement read.
The Fourth Estate contacted Priscilla Adzadzah and Pastor Faith Amevor, but they both said they had no response to our questions.
Police arrest Qnet agents over fraud
Back home in Ghana, the Adweso District police arrested two agents of Qnet for allegedly swindling a pastor and holding a 26-year-old man hostage on August 23, 2021.
According to the victim, [name withheld] who is a factory hand at a block-making factory, he was lured by his close friend, Wisdom.
"One day, my friend Wisdom called me and said he was doing business at an airport [abroad] that he transports and offloads imported goods to a warehouse which the company pays him GH¢ 800 every week.
"He later convinced me that the company needs three persons to employ which they've gotten two and left with one so I should quickly come. I arrived in Koforidua on Sunday and they took me to their place.
"They took all monies I had on me and my mobile phone. They policed me even when I want to urinate. I ate gari all day because I didn't have money," the victim told the press.
The uncle of the victim Prosper Tsormana also narrated an account given to him by his nephew.
"They defrauded the guy. They pressed him under duress, asked him to call family and friends. They took his phone, went through the contact list asked him who is this, who is that then they sat on his neck to call them to demand money from them.
"This kind of business is illegally being operated, it is a fraud, it is a scam, we are calling on the government to as quickly as possible and urgently dissolve this Qnet business.
"When you go to where they operate it is an eyesore. The children don't have food to eat, they don't allow them to visit their relatives. They police them like prisoners," he said.
Attorney-General petitioned the court to wind up Quest International (Qnet)
Ghana's Attorney-General, Godfred Yeboah Dame, petitioned the Commercial Division of the  Accra High court in July 2021 to dissolve the Qnet for "engaging in dishonest, illegal, and fraudulent business activities."
The Attorney-General further said investigations had confirmed Qnet's fraudulent operations.
"Investigations by the National Security Council Secretariat disclosed that the respondent (QNET) operates in a manner akin to a Ponzi scheme by luring clients to make deposits and investments with them which they eventually lose," part of the petition read.
"The respondent [Qnet] lures unsuspecting members of the public to pay the sum of about GH¢5, 000  place them in various jobs which turned out to be a hoax," the petition added.
Two weeks later, the company responded stating that it did not run a get-rich-quick scheme.
"In Ghana, QNET works through distributors termed as 'Independent Representatives' or 'IRs', who market the company's products online on a commission basis. It is therefore important to bring to the immediate attention of the public that our Company; QNET is not an Investment Company, Ponzi Scheme, or B2B and does not support any get-rich-quick schemes."
It further stated that it does not have an office in Ghana. "Our company is in the process of engaging with the authorities of Ghana to establish an office in Ghana in accordance with the laws of the Republic of Ghana, which is hopeful to suffice soon after."
Who wants to travel?
U.S-based fact-tank and social science research Institute, Pew Research Center, carried out a study in 2018 among citizens in Nigeria, Senegal, Kenya and Ghana. It wanted to know from the respondents that if circumstances permitted, would they seek to migrate abroad?
It found that about 75% of Ghanaians are likely to travel to another country should they get the opportunity.
Source: Pew Research Center
The study also finds that while African economies appear to be growing, it is characterised by high unemployment rates and low wages. Aside from that, the Center finds that due to high fertility levels in sub-Saharan Africa, many people would be competing for limited jobs.
This is what makes the youth vulnerable to schemes such as Qnet.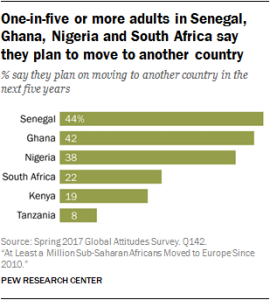 Source: Pew Research Center
These findings are not new. Non-governmental and non-profit research and advocacy institute, Afrobarometer in Nigeria and Ghana, have also announced similar findings in 2017.
Grace's twin sister, Lai, echoed the sentiments of these respondents when she said she did not believe she could succeed in Ghana, lamenting a lack of economic opportunities. "In Ghana, you don't become what you want to become. You become what you have, what you are given," said Lai.
Grace and Richmond say many Ghanaian youths have become agents for Qnet and are stuck in Abidjan, fearful of the very thing they desire to do – escape.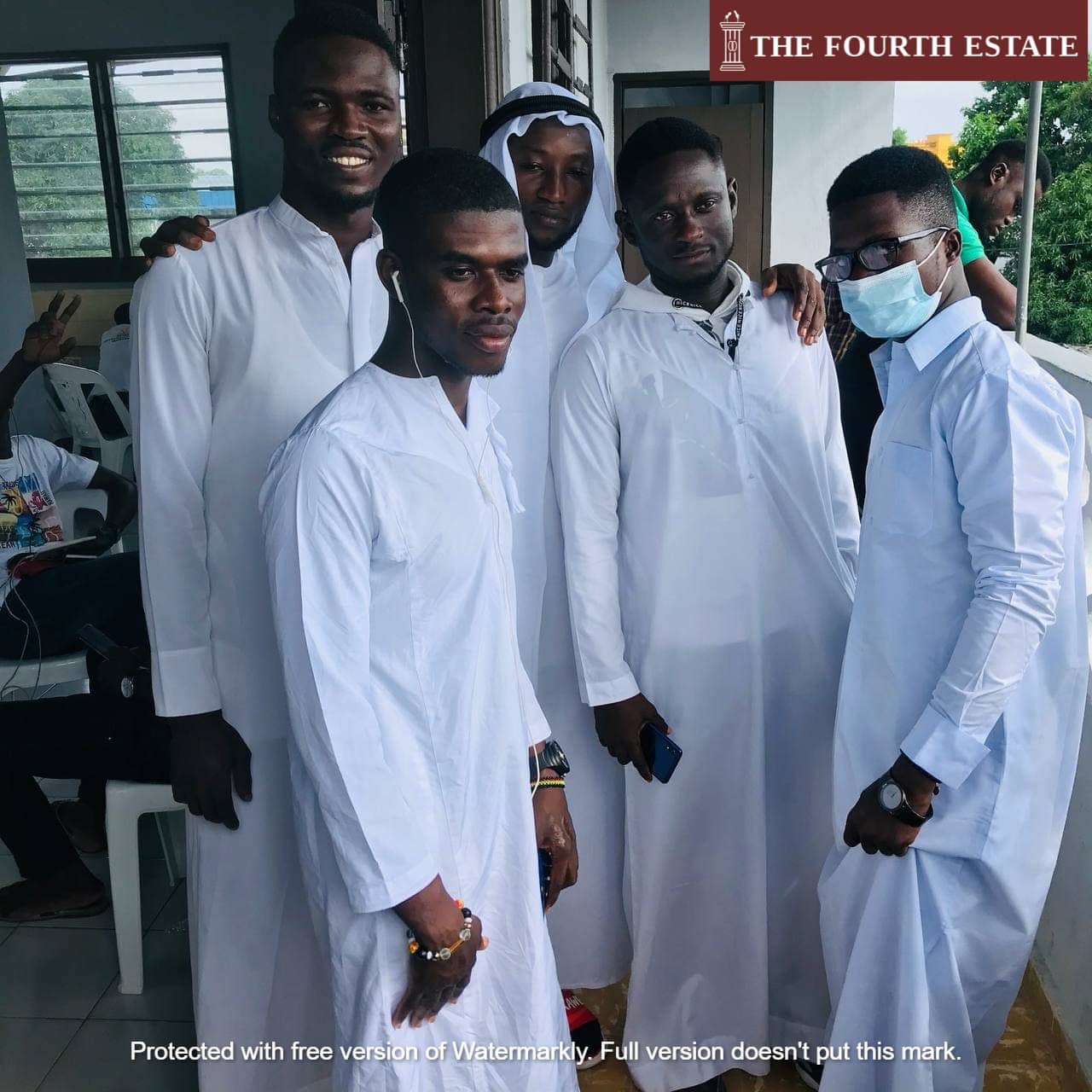 Some victims of QNet in Cote D'ivoire dressed for Eid Fitr 2021.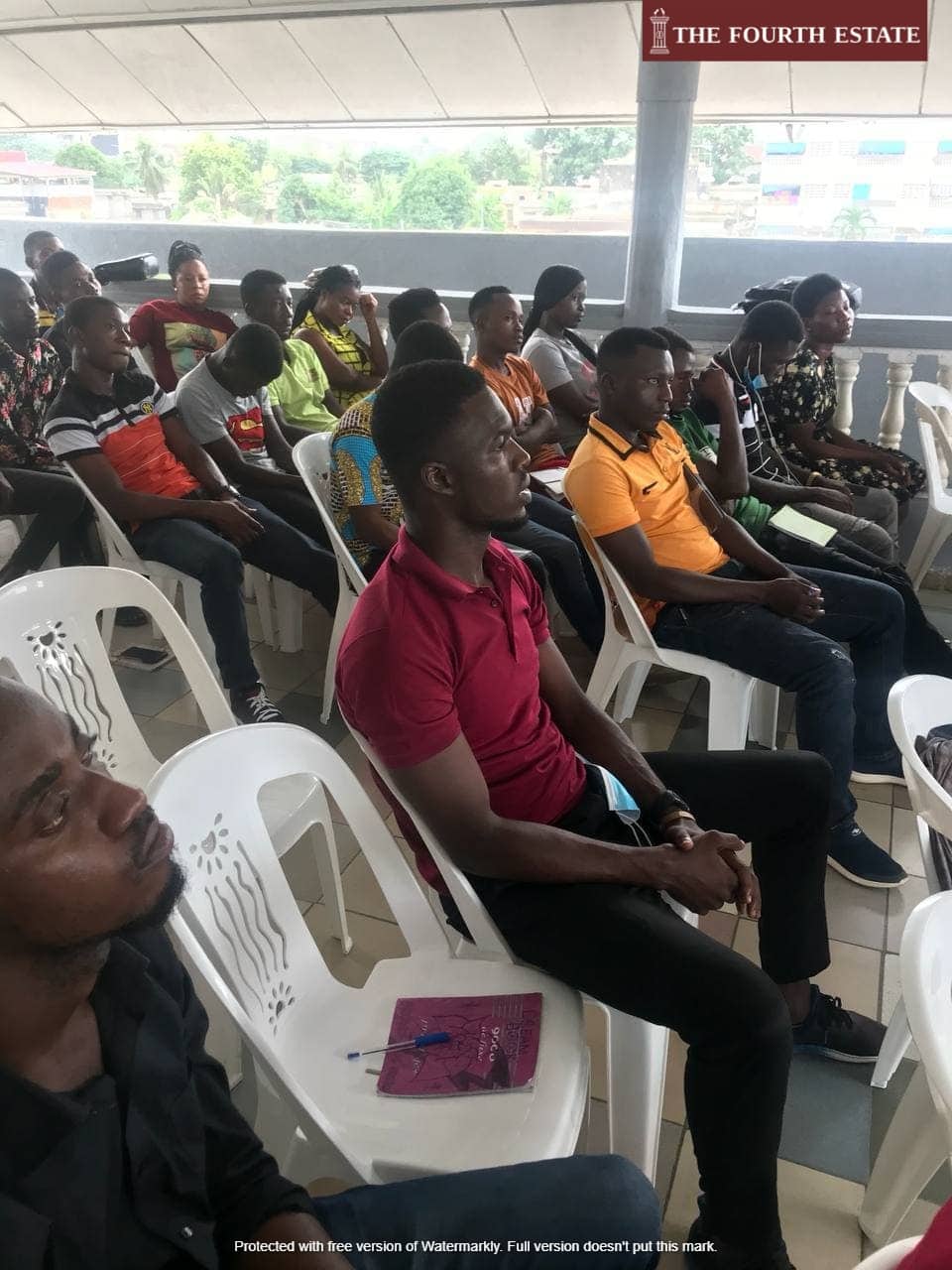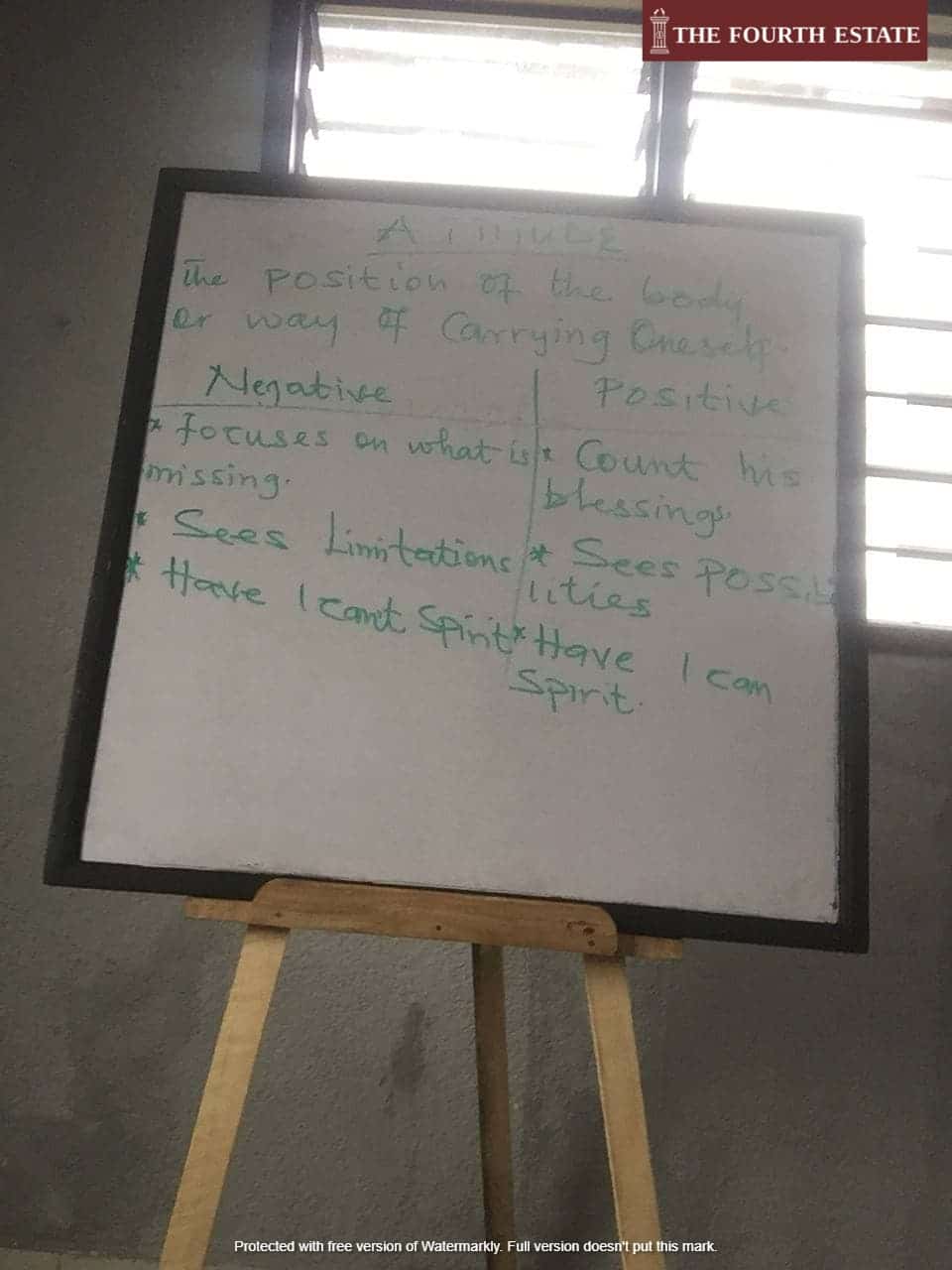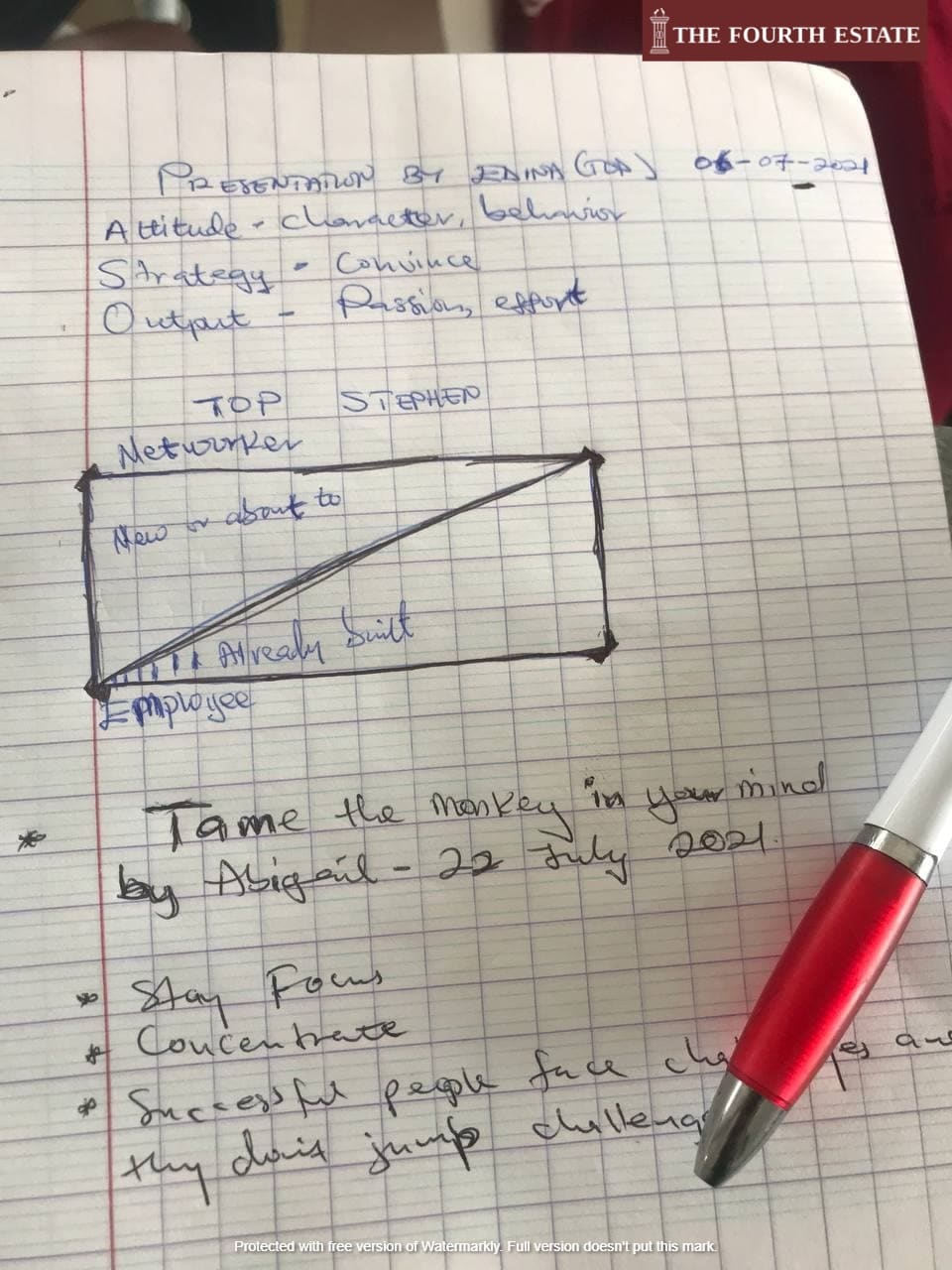 PHOTOS: Some other QNet victims in during a class session, and some pictures of strategies they were taught. 
Grace told The Fourth Estate that although she regained her freedom, her friends were now at risk. Qnet agents harvested all her contacts while she was held in captivity.
Somewhere in Abidjan, they are scrolling through to find among her friends, the next victim.