Vice President Dr. Mahamudu Bawumia wants Ghanaians to vote and make him the country's next president in the polls next year, if he is elected as flagbearer of the New Patriotic Party.
This brazen ambition follows seven years of broken promises and misgovernment, a pathetic pattern that has left in its trail incompetence, cronyism, environmental devastation, corruption of untold proportions, and an obliterated middle class. The crime of the Ghanaian middle class was that it trusted and voted an opposition leader and his "Economic Wizkid" running-mate into power.
On the campaign tour in 2016, then vice-presidential hopeful Dr. Bawumia promised to move Ghana's economy from taxation to production. Alas, seven years later, a cocktail of taxes, including three new ones came into effect this May 1, 2023. These taxes follow the unfortunate case of the government pushing through the obnoxious electronic levy which has fallen abysmally short of anticipated revenue.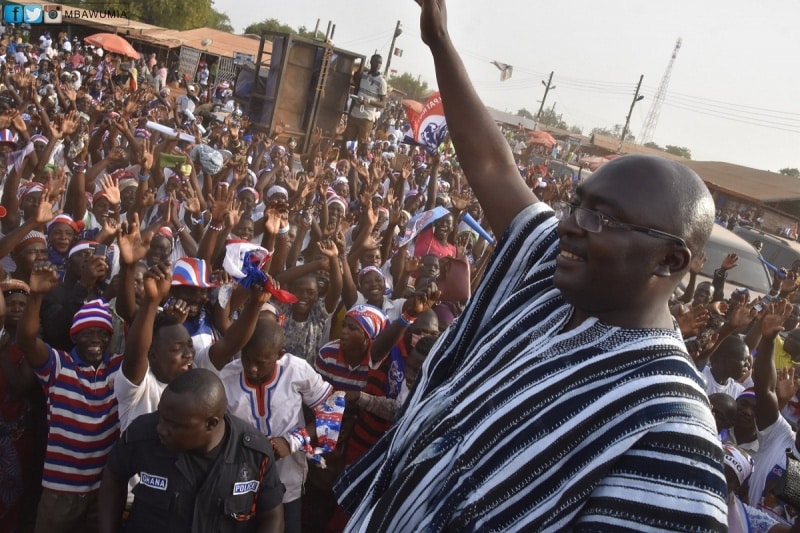 All these came from a government that assured Ghanaians that the country "is rich". Back in 2016, Dr. Bawumia assured Ghanaians:
"I worked at the Bank of Ghana and so I know that Ghana is rich. It is because the managers of the economy are incompetent and so all that they think of is borrowing. The NPP, if voted for, will harness resources in Ghana to develop Ghana. I am telling you we can develop Ghana without borrowing. The money is there."
These assurances came from the lips of the then Vice-Presidential hopeful on November 27, 2016, just before he ascended to power in 2017. Now, one may be tempted to ask: 'Where in the Bank of Ghana is the money you said was available for the governance of this country, Mr. Vice President?'
Or better still, perhaps, the question should be, 'Why must anyone take you seriously when you have not been able to deliver on the central promise you made in your campaign in 2016…after seven years in government?'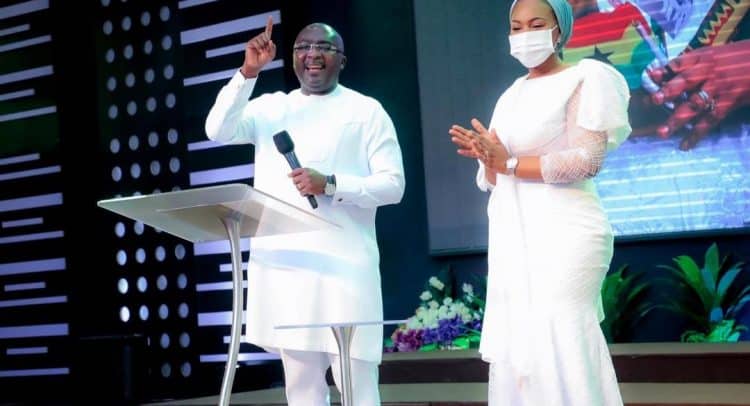 Instead of fixing the economy, Dr. Bawumia gallivants from one place of worship to the next. From Accra to Kumasi and to Ho, our vice president now hops from church to church, ostensibly sharing God's word to appeal to the Christian community for votes, all the while reneging on his promise as chairman of the economic management committee to ensure that Ghana has a stable economy.
In line with the faith, he advertises so flagrantly, one can liken Bawumia to that third servant in the Christian parable who told his master, "Master, I knew you to be a hard man, reaping where you did not sow, and gathering where you scattered no seed, so I was afraid, and I went and hid your talent in the ground. Here, you have what is yours."
In the Bible, the master did not give his third servant any more talents. Instead, he took what little he invested in him away and gave it to someone more profitable. The master went further, he cursed the worthless servant and cast him into utter darkness.
'You wicked and slothful servant!' he chastised.
Ghanaians gave Bawumia eight talents (eight years), regrettably, he has failed woefully to turn it around. Anyone of conscience would use this opportunity to perform several acts of self-abasement, mortification, and devotion to show sorrow or repentance for his sins against God, country, and people.
Instead, what does Bawumia do? He asks to be made president!
True. Things were tough in 2016. But things are tougher now. In 2016 for instance, there was a middle class. That middle class led by the pressure group, OccupyGhana, whipped up the interest of the lower class in the elections through massive protests, drummed home the need for change, and caused an upset in the 2016 election.
In 2023, however, it does not exist. That class is now in an open fight with the government over their investments, which have suffered "haircuts" due to the debt restructuring.
True. There was good reason to worry back in 2016. Ghana was broken, its bond rating had tanked, and a humiliating state financial oversight board was almost non-existent. Seven years on, however, not only are we still worried about a broken Ghana. As those who lived in the 80s would say, our current situation has compelled some of our brightest talents to embark on perilous journeys to the Americas and Europe to earn a living.
It sounds like ancient history but in 2016, the quest for a new government with a new way of doing things (away from the Mahama-led government) swept across the nation and was thought to be a potential turning point for a country striving to be taken seriously.
With that roiling backdrop, the National Democratic Congress (NDC) lost power to the New Patriotic Party (NPP).
Seven years on, Dr. Mahamudu Bawumia, the once-loved running mate of Nana Addo Dankwa Akufo-Addo, has now become a laughingstock in many homes. Under the watch of this financial wizard, Ghana's economy has seen the steepest downgrade ever and is now labeled junk.
The facts speak for themselves: the Akufo-Addo/Bawumia-led NPP government is long on promises and woefully short on follow-through and delivery.
Is the economy of Ghana in a mess? Yes.
Has it been labeled as junk by international rating agencies? Yes, several times.
Are we running out of international reserves? Yes.
Are we paying neck-breaking taxes to fund Bawumia and his boss's profligate lifestyle? Yes.
Has the NPP borrowed more than any other government to ever rule Ghana? Yes.
Has the government suspended external debt payments because we can't pay our creditors? Yes.
Is there a never-before 'haircut' on people's investments? Yes.
Has the citizens' cost of living tripled? Yes.
Do we have 3.3 million people currently living in slums since Bawumia became vice president? Yes.
Does Bawumia continue to lie about the growth rate during his tenure as chairman of the economic management team? Yes.
Has the cost of doing business tripled? Yes.
How about the cost of imports? Yes.
Did Bawumia decide not to speak when the government introduced e-levy? Yes.
Did he decide not to speak when the three new taxes were introduced this year? Yes.
We are all living with the consequences of their reckless and unrestrained borrowing. Many an expert have cautioned both vice president Bawumia and his boss several times to exercise restraint when borrowing but they would have none of that. Now that we crashed-landed, they are holding up the pension funds of retirees and other bondholders who have invested their hard-earned money into the economy.
Being the religious nomad that he is, I am sure Bawumia must have learned during his days at the Methodist Boys Brigade that affliction cannot arise for the second time, hence Ghanaians cannot entrust this country into his hands.
No, we cannot gamble again. No. We cannot. Our country is too far behind. Far behind its former peers at independence such as Malaysia and Singapore.
When the idea of raising taxes was mooted, Bawumia did not speak. When there was a public outcry against it, he did not speak. When the taxes were levied against Ghanaians, he, again, did not speak. What kind of a president will he be then?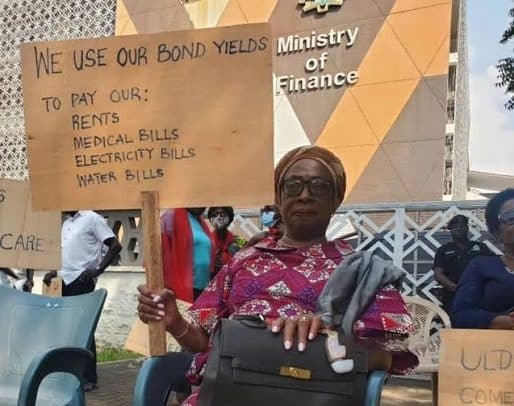 Never has it been said anywhere in our history that an association of retirees, who should ordinarily be resting at home and playing with their grandchildren, spent days at the Ministry of Finance demonstrating to be exempted from the wicked debt restructuring program. This was occasioned by the mismanagement of the economy led by the Vice President as Chairman of the Economic Management Committee.
I wonder how anyone would even think of entrusting this country our forefathers toiled for to a slothful servant who has already failed to take appropriate actions to make life better for our country men and women when he was given the opportunity these last seven years.
These days, Ghanaians have grown numb to corruption scandals even though graft denies them their primary privileges of belonging to a country. Ghanaians have grown numb because nothing, absolutely nothing, is done to those involved. Whereas in other jurisdictions, journalists produce stories, and authorities responsible take charge to get the prosecution of the individuals who played a role, the Ghanaian story is quite different. In our case, the journalists must petition the very institutions who looked away and continuously follow up to ensure that justice is done. It is as tiring as it can get depressing.
It's no wonder that many people have lost trust in our government.
In all earnest, what has Bawumia's ruling government done these past seven years to alleviate the plight of the Ghanaian?
Alas. The resounding answer is, 'Nothing!'
Oh sorry. Maybe they did. They took us to the International Monetary Fund (IMF) for the 17th time.
I hear he has caused the launch of a Wifi signal-like logo on social media to show that the signal from the electorates is strong for his ambition.
In fact, when I saw that, the first arrow which towers above the other two reminded me of how his sweet talks prior to 2017 blurred our judgment as voters of his competence, which has metamorphosed into incomparable economic hardship unleashed on us by this NPP government.
It reminds me of his never-materialised promise to move the economy from taxation to production.
More importantly though, if he ever wins the NPP primaries and his face finds its way onto the ballot paper, it will remind me, while in the ballot box in 2024, of how I now have to pay almost three times the cost of my food prior to 2017, transport fares, rent, and many other basic necessities of life.
But even before I get to cast out Dr. Bawumia in the ballot box in 2024, the NPP delegates could make my work easier by casting a verdict on the poor leadership he demonstrated as the chairman of Ghana's Economic Management team.
This, for once, will be their communal duty to the Ghanaian people. Their failure to do so is just but an insult to their own intelligence, a betrayal of their present, and a trade-off of their children's future and in extenso, the Ghanaian people.
Like the death of a man in the market square whose funeral is not announced, so is Bawumia's ambition to climb a step higher as Ghana's president.
So, why, in God's name, does the vice president of the worst-ever government in the Fourth Republic hope to become Ghana's next president?  Maybe he's got no shame, but Ghana deserves better. Ghana should be better. Ghana can be better. This inept servant must never become president!
YOU MAY ALSO WANT TO READ:
#BawumiaSpeaks: Here are the false, misleading claims in the Veep's economy speech
Bawumia's "free water and free electricity for Ghanaians" claim. Here are the facts.