Dear President Akufo-Addo,
When I went to the bank to pay my fees as a prospective student of the Ghana Institute of Journalism in 2016, a thick crowd of New Patriotic Party (NPP) supporters had gathered for a campaign nearby.
It was the NPP parliamentary candidate for Tema West, Carlos Ahenkora, who was on the podium addressing the gathering.
I overheard him say a vote for the NPP was a vote to rescue Ghana from the National Democratic Congress (NDC) government, which was mismanaging the economy and making it difficult for importers and freight forwarders.
Being the owner of a freight forwarding company, he said the economic circumstances were crippling his business and those of many others.
By September 2016, lectures had begun in school and so was the fierce campaign between you (candidate Nana Akufo-Addo) and the NDC's John Mahama.
It was a campaign between impunity, between the "dead goat" President Mahama and the well-branded Akufo-Addo, the human rights activist.  We were made to believe you would save Ghana from the wanton corruption that had engulfed our country.
At your last campaign rally at the Trade Fair Centre at La, you touted your achievements and begged Ghanaians to give you a chance.
Almost everyone, including some members of the clergy, thought you were better. Of course, you were. Or so you appeared.
You won with an overwhelming number of votes ever recorded against an incumbent party. Carlos also won.
Prior to begging for votes at the last rally, you had asked us to give you a try. This was in September 2016 at a rally in Wa.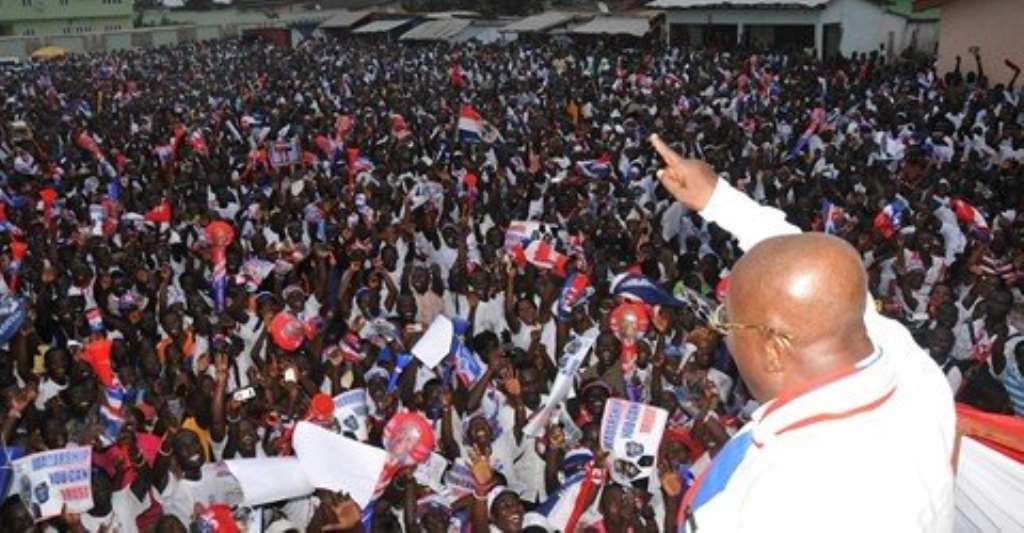 "I'm prepared to beg the people of Ghana to be president if that is what is required to be done. You say 'try me'  means that you are going to experiment, but the experience of the person who is there now has been a disastrous experience for our country. So, what is the purpose of continuity?"
Sir, we have tried you for five years. In 2020, we had a referendum on your first term. From the results of the parliamentary election, Ghanaians neither said yes or no. After implementing free SHS, using Covid-19 to dole out freebies to enhance your chances, and contesting against the rejected John Mahama,  the outcome of the presidential poll should have alarmed you and made you sit up.
Ideally, this should have informed how you should lead us in your second term. But you have lost it. As someone who listened to your message of hope with optimism, what I have observed in your presidential years doesn't look good. The situation looks more hopeless than you met it.
It appears globetrotting with your new-found love, the luxurious private jet, has made you tone-deaf to the current situation we find ourselves.
But, Mr. President, to refresh your memory, the youth unemployment situation which you promised to tackle is rather on the ascendancy. The National Security ministry describes the situation as a security threat.
The rising cost of living, and the ever-increasing fuel prices continue to take the little we make in this suffocating economy.  Corruption and wastage of our scarce resources are sinking our country. In fact, on the wastage, you are leading the charge as you continue to rent luxurious private jets for your personal comfort while refusing to account to the taxpayer.
Mr President, it is difficult to convince anyone that we are poor when we rent a private jet for you and your entourage to attend meetings abroad while our country's presidential jet either lies idle or is being used by presidents of other countries.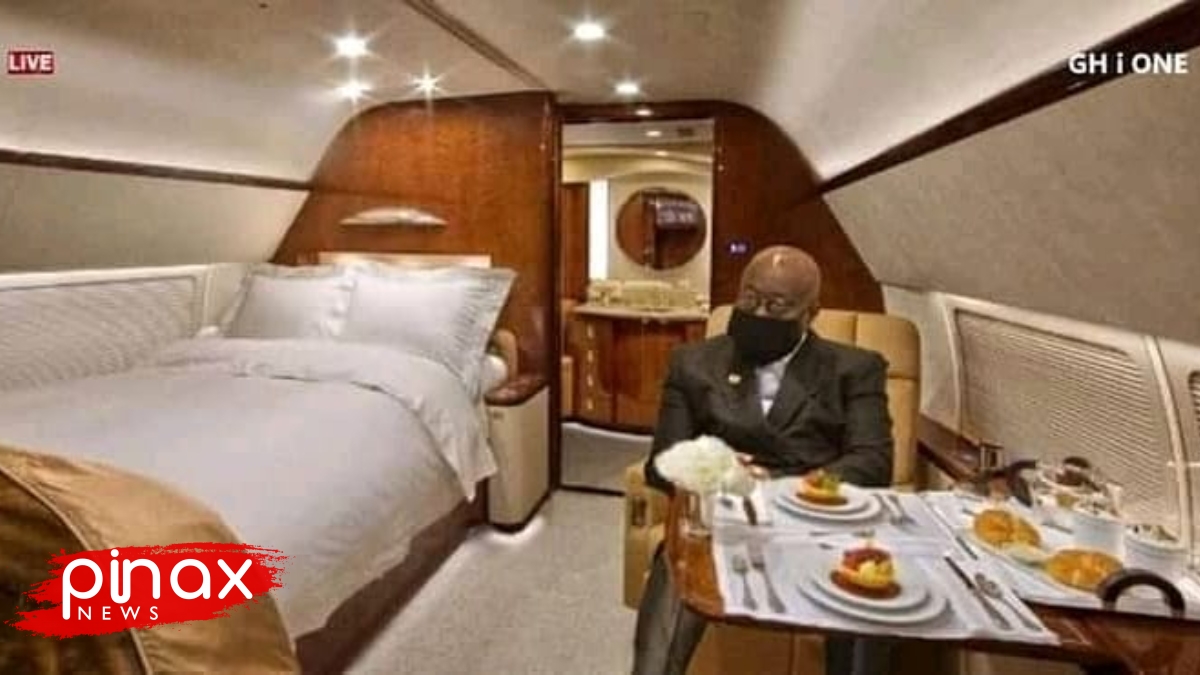 Your Minister for National Security says even the cost of the jet cannot be disclosed because it is a national security matter
If anything, it is a mark of how grotesque the image and credibility of you and your government have become since taking over the affairs of this nation.
Three weeks ago, when a section of Ghanaians were on the street against the proposed e-levy, you were off on a 10-day tour of some countries, a trip that is alleged to be costing the taxpayer almost GHS 5 million. That is 1% of how much you expect to raise for the state kitty from the e-levy. How insensitive!
Mr President, my 'konkonsa' colleagues have reported that the economy you and our Vice-President Dr Mahamud Bawumia superintend over has been downgraded to Caa1.  Maybe you did not hear that and have not seen the need to cut down on the unnecessary perks of your office.
Aren't you in a hurry to develop Ghana again?
Some Ghanaians say you are deaf to the sufferings of the citizens. Some say you're just insensitive. And they are right.
In years past when you had no burden of leadership as President, you poignantly rallied us to reflect on the direction of Ship Ghana, which President Mahama was captain.
"Are we going to continue the disaster? Is that the right thing to do? We want to get rid of the disaster and bring in a new man with fresh ideas and a fresh direction for our nation. That is what we want to do," this was you prior to your victory in 2016.
What has changed? Not much. Or maybe a lot. A lot of clearing of corrupt appointees, nepotism and stinking arrogance of some of your ministers.
Mr President, your former spokesperson, and now head of the National Petroleum Authority (NPA), Mustapha Hamid, granted an interview to the press during the 2016 NPP election and said, "If you reach a certain stage in life and there is nobody who can look you in the eye and tell you the truth, you are doomed and that is where our country has gotten to. We need to rescue this country."
Mr President, Mustapha's statement is true then. And now. We need to rescue this country. Ghana needs rescuing from you and by you, at least in the next three years.
You need to cut down on the profligate expenditure. You need to reduce the taxes on fuel.
Tackle the employment challenges that threaten the peace of this country with much urgency as you attach to the media crackdown.
Show us that you can deal with corruption not just in selected cases in the Mahama administration but also in your own.
Resource the Office of the Special Prosecutor to work.
And oh, Nana, E-levy.
Relentlessly, you and your party pushed the idea of moving Ghana's economy from "taxation to production".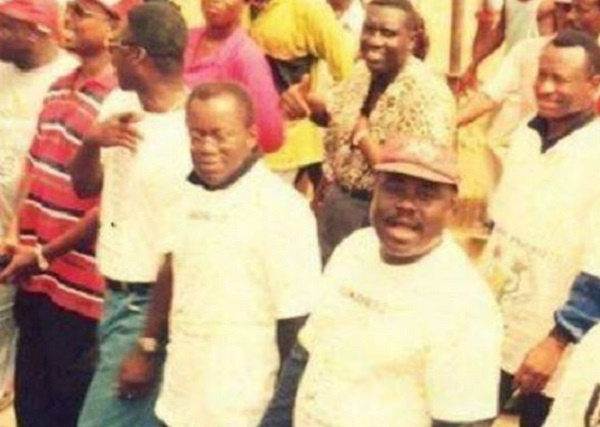 However, the old ways of imposing stifling taxes on Ghanaians still persists. How ironic that you led the "kume preko" demonstration against Rawlings' introduction of VAT!
This E-levy defeats the reasons Ghanaians voted for your government, one of which was to be freed from unnecessary taxes.
Mr President, a colleague of mine said you were an unprincipled power seeker, and I am beginning to think that is true of you.  Your actions and campaign for the presidency and your current attitude put a deep ocean between you and your former self.
Your soubriquet in town now is "Yenka m'asem" (They can't talk about me.)  The fact that you made your mark as an astute human rights advocate and defender of free speech makes this nickname troubling.
While the cost of living is rising and living conditions worsening, you and your administration are saddling us with the Electronic Transactions Levy.
Some fellow Ghanaians say you and some of your government officials are beginning to sound like the unlicensed drug sellers on public transport whose medicinal products could cure almost every disease such as piles, diabetes and impotence.
Your Okyeame Kojo Oppong Nkrumah said if the E-levy is not passed, government workers would not get their salary.
Your Agric Minister said the passage of the E-levy would help fund the distribution of fertilizers to farmers.
Your defence minister said the passage of the E-levy would help us buy a jet so that you won't rent the luxurious jet which is alleged to cost the taxpayer $14,000 per hour.
Another said our failure to pay the E-levy would collapse the Free SHS Policy.
The Finance Minister, Ken Ofori Atta, said by accepting the widely-rejected e-levy, every citizen would now have the moral right to demand accountability from the government.
These and many more ridiculous justifications for a tax many have rejected make my head ache. What else would the E-levy be able to do?
Fight corruption? Make you pay attention to the worsening plight of your citizens?
Well, the Akans say, "Yetu wo fo na w'antie a, wokɔ Anteade"; to wit, if you do not heed advice, you will go to Anteade (the town for those who don't heed advice).
Until then, enough of the e-levy and its avalanche of fictitious solutions to our national problems.
Mr President, this is e-nough.
The writer, Evans Aziamor-Mensah, is a journalist with The Fourth Estate.