When Assin Central Member of Parliament, Ken Agyapong, announced his 2024 presidential bid, many dismissed it as one of his usual rhetorics.
To some analysts, the six-term legislator's decision is to gain another level of relevance in a race that pollsters had predetermined to be between Vice-President Dr Mahamudu Bawumia and former Trade and Industry Minister, Alan Kwadwo Kyerematen, who has since left the New Patriotic Party (NPP).
There were several reasons for this scepticism. First, he had literally washed his hands off a presidential ambition multiple times since 2017. The last time was in February last year, when he insisted, he did not need to be president to change the lives of Ghanaians. He would later claim he didn't want to distract President Nana Akufo-Addo with his aspirations.
Secondly, given his loud, quick-tempered and headline-grabbing feuds, political analysts were quick to write him off as a presidential material.
However, his second-place finish during the NPP's August Super Delegates conference made his intention clear. He has been tapping into the growing discontent against the Akufo-Addo administration because of the country's economic crisis while positioning himself as a major contender against Vice-President Dr Mahamudu Bawumia.
With Alan Kyerematen's presidential odyssey in the NPP coming to an end, Mr Agyapong appears ready to fight for the ticket.
Source of wealth
Ken Agyapong, a graduate of Fordham University in the United States, is widely regarded as a wealthy businessman. However, his critics have questioned his source of wealth; with some labelling him as a drug lord, although no evidence has been produced to back this claim. While quick to laugh off the tag, in 2015, he set tongues wagging with the assertion that about 85 percent of indigenous businessmen are drug barons.
He takes credit for the financial engineering that got Chinese funding for the construction of the Bui Dam. His business portfolio also includes radio and television stations, cold stores, real estate, shopping centres, a commercial farm and an energy company.
Beyond the NPP internal politicking, Mr Agyapong has been talking a great game about how he can revitalise the ailing economy, putting emphasis on growing tourism, reducing interest rates, industrialisation, job creation, foreign direct investment and eliminating nepotism and favouritism from public office.
He has also given a hint of what would engage his attention in his first 100 days in office—reorient the mindset of Ghanaians through a collaboration with musicians.
As an MP, he does not have a significant legislative record. Although he chaired some committees, he is loudest outside the chamber. The applause, however, is resounding for his philanthropic work and lobbying for projects for his constituency.
But Ken Agyapong is a man of a thousand controversies.
Ghana's version of Trump?
One to easily court controversy, many have likened Mr Agyapong to former American President Donald Trump, the anti-establishment politician and businessman, whose populist slogans and promises convinced Americans to elect him over former Secretary of State, Hillary Clinton.
He is, however, uncomfortable with being compared to the controversial former American president, who is currently on trial for nearly turning American democracy on its head. But he is interested in borrowing a Trump idea – build a wall around the Korle Lagoon to protect the water body from unending pollution.
On that score, their similarities are many.
A volcanic temper is a common trait of the two. They both command a lot of respect from the grassroots.
Both do not count on classroom education as their biggest strengths but are quick to point to street credo as the foundation of their success in businesses and highlight this as evidence of their ability to manage the economy and create jobs.
Similar to Trump, Mr Agyapong uses a lot of unfiltered language whether it's on his employees, opponents, his party or the state institutions he is seeking to lead.
Just like the former American President, Mr Agyapong in his attempt to appeal to voters who are disillusioned with the government has positioned himself as an outsider who is not part of the political establishment.
But is Ken Agyapong truly an outsider? Mr Agyapong, who has been meeting delegates, has been touting his business credentials and painting himself as a Jubilee House outcast.
The records, however, say otherwise.
In Ghana, the award of contracts to party members is seen as the spoils of electoral war. Although Mr Agyapong has a record of railing against the elites and powerful in the Akufo-Addo administration, and past governments, the reality is that he is not an outsider. Having been an NPP financier for years, he shouts the loudest when perks of party financing, including contracts don't go his way.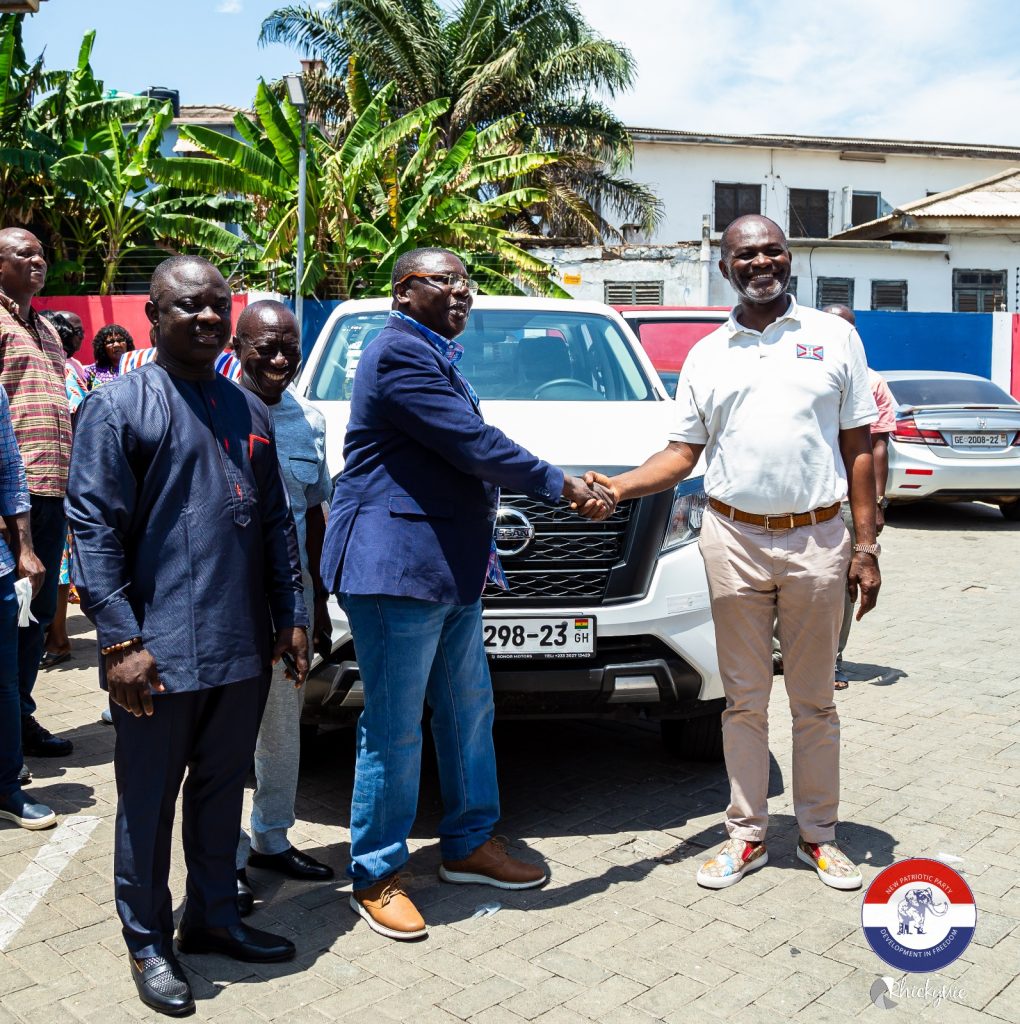 In March 2017, just three months after the NPP came to power, Mr Agyapong was involved in shadow boxing with the Executive Secretary of the National Identification Authority (NIA), Prof Ken Agyeman Attafuah, over a $293 million contract the authority had awarded a rival company, the Margins Group, for the printing of the Ghana card.
He claimed he bided for the printing of the Ghana card and could have done it for less. He accused Prof Attafuah of inflating the contract sum to $1.2 billion which turned out to be false. He also alleged that the NIA Executive Secretary received bribe, including a parcel of land to award the contract to the Margins Group. Prof Attafuah vehemently denied that allegation.
A year after the verbal exchanges with the NIA Executive Secretary, it came to light that a company belonging to Mr Agyapong's wife, Imperial World Ventures, was awarded a GH₵100 million contract for the supply of 150Watts LED streetlights through restrictive tendering.
In July 2021, he was appointed as the board chairman of Ghana Gas, the company that operates the country's natural gas resources. Such appointments have been criticised in the past because they contribute to weakening parliament. Experts say MPs who chair these boards are often caught in a conflict-of-interest situation and are often swift to lobby their peers in the House, rallying them to close their eyes to wrongdoing in the state-owned enterprises they oversee.
In February 2022, the MP claimed he had to beg like a child to secure contracts from the government. However, he contradicted himself in September 2022 when he claimed that he had not been awarded any government contract since 2021.
Even in a loose sense, anti-establishment politicians do not frolic with the executive let alone benefit from political perks. Mr Agyapong belongs to the inner circle of President Nana Akufo-Addo and was even reported as saying that the president was shocked to hear that he (Agyapong) was not getting government contracts.
Further evidence of him being a close associate of the president also played out in his own admission in 2021. He claimed he had collected GH₵120,000 from the Chief of Staff, Frema Osei Opare, to deposit into Dome-Kwabenya MP, Adwoa Safo's account. This transaction was meant to serve as an incentive to persuade Ms Safo to return home during a critical period in Parliament when the government was struggling to pass the e-levy, given its thin majority in the House. The Dome-Kwabenya MP, who was also the Gender Minister, had abandoned post to live in the US with the excuse of attending to her sick child. The two lawmakers have children together.
Lawless causes
Mr Agyapong has had his days in the courtroom from criminal to defamation cases.
In July 2013, a circuit court acquitted and discharged Mr Agyapong after more than a year of trial. The vociferous legislator was dragged before court in April 2012 and initially charged with attempted treason, genocide and terrorism, but the state later substituted the charges and slapped him with provocation of riot and offensive conduct conducive to the breach of the peace.
Given everything that has happened in the past seven years, it's not a surprise that Mr Agyapong during his recent campaign had denied having anything to do with the death of Ahmed Hussein Suale, the undercover investigative journalist who was shot weeks after the lawmaker blew his cover on television. On January 16, 2019, Suale was fatally shot by men on a motorbike as he drove his car in his neighbourhood at Madina in Accra. But more than five years later, the police have failed to identify the culprits.
Other journalists, including Joy News' Erastus Asare Donkor, have been threatened by the lawmaker. The Speaker of Parliament in 2021 referred the threat against Mr Donkor to the Privileges Committee but the outcome is yet to be made public.
Although a lawmaker, Mr Agyapong has often supported causes that question his commitment to law and order. When members of the Delta Force, a vigilante group in the NPP attacked and forced out the Ashanti Regional National Security Coordinator, George Agyei, because he was not from the region, the legislator was quick to rally to their support.  He was reported as saying that if he had been there, he would have clapped for them and urged them to slap Agyei.
"Anyone should dare and put any of the Delta Force guys on trial. I would personally lead demonstrations against the NPP and Kan Dapaah. Nana Addo didn't win easily; we fought and these boys were at the war front when they were fighting," he threatened.
Probably taking inspiration from this statement, the Delta Force members invaded a courtroom to release 13 of their members who were on trial. In the end, they each paid GH₵1,800 for their rowdy behaviour. In the past, others have been jailed for words that were in contempt of court.
He is also on record to have defended persons caught in alleged corrupt practices including the former Public Procurement Authority Chief Executive Officer, A.B Adjei, who allegedly formed a company that won and sold contracts to the highest bidder and Kwesi Nyantakyi, a former President of the Ghana Football Association, who is currently being prosecuted for a raft of corruption allegations.
Work as an MP
When the sun sets on the tenure of the eighth Parliament, Mr Agyapong would have been a lawmaker for 24 years. But when counting Ghana's most outstanding legislators of the Fourth Republic, the six-term MP might not make the list.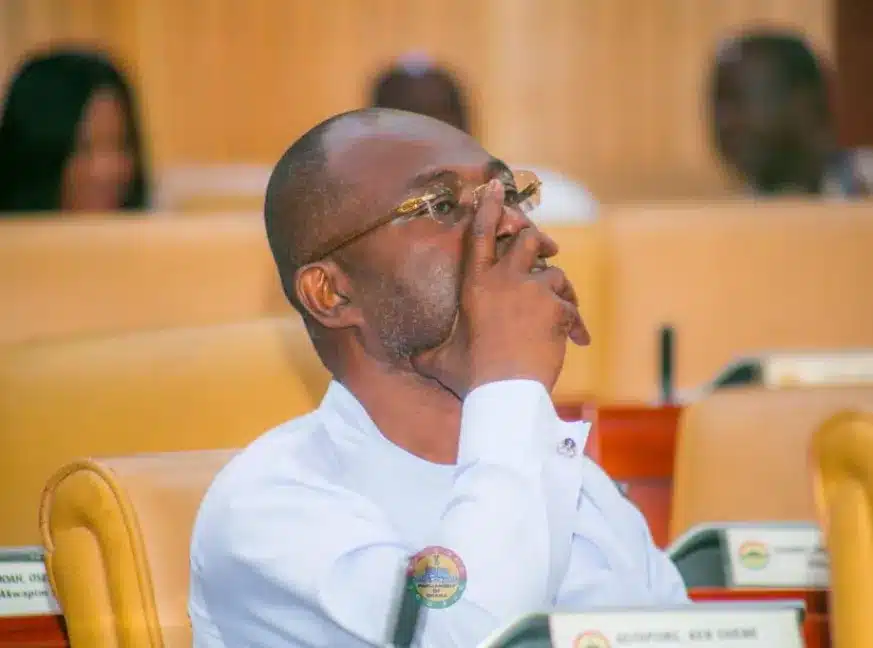 Under his tenure as the Chairman of the Communications Committee, the National Communications Authority shut down more 100 radio stations from 2017-2019 for various offences including operating with invalid licenses. Some of these stations were said to be affiliated with the opposition National Democratic Congress (NDC). His own radio station, Oman FM, was reportedly on the list of the blemished, but was not shut down.  He later claimed he pleaded with the Ministry of Communications to have the decision reversed to no avail.
As Chairman of the Defence and Interior Committee in 2021, and one who claims hatred for injustice, one would have expected that he would champion an investigation into the murder of the eight people in the Techiman South Constituency during the 2020 elections. It did not happen.
Attack on institutions 
Over the years, Mr Agyapong has used his radio and television stations to castigate all those who got on his wrong side. The judiciary, former presidents John Mahama and Prof J.E.A Mills (now late) and parliament have all received tongue lashes.
So has he often been embroiled in seemingly trivial rows with various public figures, including musicians, actresses, journalists, pastors, trading unpleasant soundbites.
In September 2020, Mr Agyapong stunned the country when he descended on a judge handling a land case he was involved in, describing him with unprintable words. In response, the judge ordered him to appear before the court.
He did.
Before the judge, his volcanic outburst disappeared and was replaced by a much tamer demeanour. But before the judge could take a decision in the contempt case, Mr Agyapong ran to the Supreme Court, accusing the judge of being biased because the judge mentioned "severe punishment". The apex court agreed with him and directed that the case be sent to another judge for the contempt trial. He later apologised to the judiciary and in 2021 became a member of the Judiciary Committee of Parliament.
That trial is yet to happen.
However, when he offended his peers in Parliament, allegedly calling the House 'cheap and useless', they did not spare him. The then Minority Chief Whip, Mohammed Muntaka Mubarak, dragged him before the Privileges Committee of the House where he was found guilty of contempt of Parliament.
Again, he got away with punishment because of the partisanship in the House.
While they were in office, former presidents J.E.A Mills and John Mahama tasted his venom. He described the now late Prof Mills as the country's 'chief thief' and Mr Mahama as greedy and incompetent.
In December 2020, he accused Mr Mahama of being a thief and the brain behind numerous burnt markets and threatened to burn down the former president's house, only to recently apologise that allegations he made against the former president were jokes.
The most denigrating of these insults was directed at Charlotte Osei, the then EC Chairperson, whom he accused of trading sex for her position.
Economics and Political Risk Analyst, Dr Theo Acheampong, told The Fourth Estate that although Mr Agyapong had lofty ideas, it would be impossible to implement them.
"Nothing shows that he can. Isn't he a part of the rot/mess of this country?"
On Mr Agyapong's ability to fight corruption, Dr Acheampong observed that Mr Agyapong is far from being a redeemer.
"Everyone is neck deep. Me, I doubt if he or anyone else can fight it unless there is a fundamental resetting through major constitutional reforms," he said.
Is Ken Agyapong suitable for the presidency?
Economist and Political Risk Analyst, Dr Theo Acheampong, while not optimistic about a better Ghana under a Ken Agyapong presidency noted that "the grassroots or ordinary people like him because he's seen as a doer or no nonsense person."
From the evidence in this analysis, Mr Agyapong's conduct over the years in attacking presidents, the judiciary, and even parliament, where he is a legislator, openly supporting persons accused of corruption, threatening journalists and the use of inflammatory language against public officeholders raises serious concerns about his suitability for higher office.
Such actions demonstrate a lack of respect for democratic institutions and the rule of law, which are essential pillars of any functioning democracy. His divisive actions and rhetoric could further polarise the nation, thereby undermining social cohesion. Already, tribal politicking is showing in his campaign ahead of the NPP's November 4, 2023, presidential primary.
Aspiring to be president requires statesmanship, integrity, and the ability to unite people. Mr Agyapong's current conduct is at odds with his ability to fulfil these criteria.
If he cannot show decorum and continues to undermine institutions, can he preserve Ghana's democratic values and uphold and defend the constitution?