Five years into the implementation of the ruling New Patriotic Party's (NPP) signature Infrastructure for Poverty Eradication Programme (IPEP), Ada and Sege constituencies in the Greater Accra Region cannot point to a single completed structure under the scheme.
The Construction of the much-publicised 10-seater public water closet toilets in 17 communities in the two constituencies has been halted and foundational work done is left to rot at the mercy of the weather. The projects were to be completed within six months in 2018
The Fourth Estate can confirm that the medium-term expenditure framework presented to the Finance Ministry by the Ministry for Special Development Initiatives (MSDI) proposed not less than GHC1.3 billion for the Coastal Development Authority(CDA) and two other development authorities each to invest in the basic infrastructure development initiatives of its constituencies.
This was part of the $1 million per constituency promise the NPP made in 2016, but residents of Ada and Sege are yet to benefit from the much-touted promise to help eliminate open defecation.
Edith Otipeseku ties a piece of cloth around her body as she clutches a sheet of paper torn from her younger brother's exercise book. She heads urgently towards the breezy seashore at Goi to, for want of a better phrase, attend to nature's call. The beach lying in this suburb of Sege in the Greater Accra region is still her only place of convenience.
This remains part of her morning routine as she readies herself for the day's activities. Unfortunately for Edith, this very private experience has long become normalised as a public spectacle.
And, as if this experience is not embarrassing enough, she frequently has to bear the discomfort of sharing her little piece of paradise along the coast with members of the opposite sex.
"It is weird, but we are used to it. Sometimes, you walk for so long just to come and meet somebody next to you who is [a man]," she sighs.
Edith's degrading circumstance mirrors that of many residents in several coastal communities, especially in the Ada and Sege constituencies. These residents struggle each day to find a spot convenient enough to defecate.
Over GHC3 billion spent to end open defecation
The NPP government, through the Coastal Development Authority (CODA), awarded contracts for the construction of public toilet facilities in seventeen communities in Ada and Sege. The project was to be developed in addition to either shower facilities or mechanised boreholes.
In the Sege constituency, a sum of GHC3.3m was awarded for the construction of ten 10-seater water closet toilet facility – each with a shower – for ten communities, each costing over GHC327,000. The beneficiary communities include Ajumanikope, Akplabanya, Caeserkorpey, Lolonya, Matsekope, Nakomkorpe, Anyaman (relocated to Toflokpo), Bajorhe (relocated to Koluedor), Hawakpo (relocated to Sege), and Amuyaokorpey (relocated to Afiadenyigba).
The remaining seven communities were to also benefit from the public toilet facilities, but each complemented with a mechanised borehole instead of a shower. These projects were estimated to cost over GHC447,000 for three communities – Bornikope, Goi, and Wokumagbe – in the Sege constituency. Another four were to be located in Ada market in Kasseh, Ada community center in Big Ada, Ada Foah, and Songutsokpa. They cost the Ghanaian taxpayer over GHC 595,000, each being GHC 148,966.40.
These projects form part of the government's flagship interventions programme targeted at reducing poverty and minimizing all forms of inequalities through the delivery of basic infrastructure across the country.
17 public toilet projects abandoned
Left to their fate, all of the toilet facilities are at the lintel level, except that of Lolonya, which did not progress beyond the foundation level. Today, it is colonized by weeds. Many of these projects commenced in 2017 and the rest in 2020. Work was stalled and ultimately halted before their six-month completion ultimatum.
There was no communication regarding the work stoppage. Kasseh Market trader Hannah Adopley explains:
"[The workers] were consistent from the beginning, but we do not know what exactly happened, because we don't know anybody involved in this project. And it was neglected in the same year it was started".
The sudden abandonment of the projects has seen the uncompleted structures in Kasseh Market, Lolonya, Wokumagbe, Goi, and Bornikope occupied and repurposed by locals for other uses including warehousing, places of convenience, dump sites, hideouts for cannabis smokers, and playgrounds.
At the time of this report, a portion of the structure in Kasseh was being used by traders to warehouse sacks of charcoal. The outside of the abandoned project was littered with heaps of garbage scattered around with huge flies trumpeting songs nobody can sing along to.
When The Fourth Estate visited, a few laborers were digging a foundation to fence it to prevent locals from dumping refuse there.
"We were just asked to dig a foundation around [the structure]; we can't answer questions," one of the labourers explained.
Curiously, the project site in Akplabanya could not be found. After a rigorous search by The Fourth Estate team, however, an uncompleted structure intended for what could be a 10-seater public toilet project with a complimentary shower facility was located about 21.3 kilometers away in Agbedrafor.
Other abandoned structures had their exposed iron rods rusting from the persistent onslaught of the elements.
Other facilities are being used by aged residents to free their bowels.
A few residents are threatening to convert what is left of the uncompleted facilities into residences rather than watch them deteriorate. Others believe the best way forward is to set up community watchdogs to ward off miscreants in the hope that work will resume someday and the projects may get completed eventually.
Assemblymembers for the various localities say their calls to push for the completion of the project have fallen on deaf ears. Assemblyman for Goi-Kpotsum Electoral Area, Abraham Ofoe Sottie is worried. He says:
"Some executives came from CODA and they said they will return soon to ensure that the project is completed, but we didn't hear anything. …We have made several attempts but there is no…result. People are now smoking here.…We had to form a watchdog committee to be sacking them before it has reduced small."
From a campaign pledge to government policy
After winning the 2016 general elections, the ruling NPP said it would fulfill its campaign promise by setting up the Infrastructure for Poverty Eradication Programme (IPEP) under which each of the 275 constituencies across the country will be allocated the equivalence of $1 million annually to invest in infrastructure development initiatives of their choice.
The project was to be managed and implemented by the three regional development authorities: Coastal Development Authority, Middle Belt Development Authority, and Northern Development Authority, all under the auspices of the office of the President, and supervised by the Ministry for Special Development Initiatives (MSDI).
"We are doing this because we believe that if these authorities succeed in their task, it will enable us to have a much more evenly balanced development of Ghana," President Nana Addo Dankwa Akufo-Addo said at a brief ceremony held at the Banquet Hall of the Jubilee House, on June 11, 2018, to swear into office the governing boards of the three development authorities.
Later in the same year, his government issued commencement letters to cover the full amount of cedi equivalence of $1 million to all the development authorities for the implementation of constituency-specific infrastructure needs.
Minister of Finance and Economic Planning (MoFEP), Ken Ofori-Atta, later granted the letters of commencement to commence full implementation of the $1 million per constituency pledge under IPEP.
The commencement certificate makes available GHc1.664 billion (equivalent to $320 million) for the 275 constituencies across the country. This covers $275 million for the 275 constituencies and $45 million for outstanding commitments.
 Expenditure and appropriation trends
MSDI was established by Executive Instrument (EI 28) and gazetted in February 2017. The Ministry received a total of almost GHS 1.8 million from the Office of the President to start operations out of which GHS 226,395 was for Goods and Services and GHS 1,555,509.00 for capital expenditure.
For 2018, Parliament approved an amount of GHS 1,239,409,969 appropriation for the Ministry. However, GHS103,773,596 was released for the implementation of IPEP. An amount of GHS1,333,502,750.00 was approved by Parliament for the Ministry during the 2019 fiscal year.
Capital Expenditure for IPEP as of September 2019 stood at GHS385,449,138.18 as against a total release of GHS379,718,946.53.
In the appropriation bill, Parliament allocated a grand total of GHC1,050,087,109.00 and GHC96,682,700.00 for MSDI in 2020 and 2021 respectively. The MSDI medium-term expenditure framework presented to the Finance Ministry and sighted by The Fourth Estate has proposed not less than GHC1.3 billion for the three Development Authorities each from 2020-2023.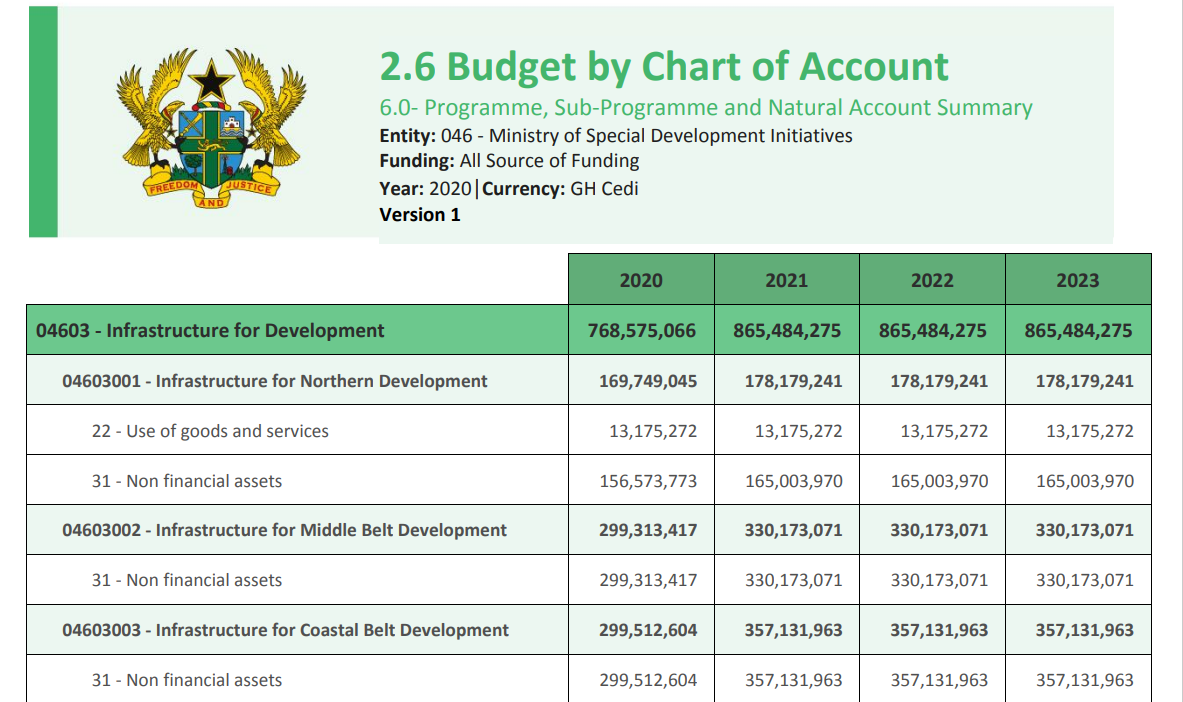 $1 million per constituency promise is a scam – NDC
In June 2020, the National Democratic Congress (NDC) described President Nana Addo Dankwa Akufo-Addo's $1 Million per constituency promise as a 'scam'. Alhaji Mohammed Mubarak Muntaka, then the Minority Chief Whip, expressed shock over the government's claim of allocating $1 million per constituency per year to the 275 constituencies.
"It is instructive to note that per the $1 million every year per constituency promise of President Akufo-Addo, each constituency should have received a total of $3 million, which leads to a total of $825 million by now or benefitted from development projects equivalent to that amount by now,'' the Chief Whip wondered.
Local beneficiary stakeholders left out of coastal infrastructure development initiative
According to the programme description stated by MSDI, "the sub-programme will be implemented by the Coastal Development Authority with collaboration from the Metropolitan, Municipal and District Assemblies (MMDAs), Regional Co-ordinating Councils (RCCs), Traditional Authorities and other key stakeholders.''
However, The Fourth Estate can report that awareness of the project in beneficiary communities in Ada and Sege is very low as residents do not know what the IPEP projects are. Assembly members say they have no idea about the projects, and the districts assemblies in Sege and Ada are none the better.
The assembly member for Salom-Toflokpo Electoral Area, James Tsiani Gadugah, believes all decisions are taken at the national level and only NPP executives seem to have knowledge about the projects in the constituencies.
"I wasn't in the know. When I started asking questions about the project, I had issues with the NPP executives because they were leading the project. As an Assemblyman, I wasn't consulted so for this project, we are just praying for it to be completed to serve its purpose", he disclosed.
On the website of CODA however, the implementation agency for MSDI, where all the IPEP projects under $1 million per constituency are reported, there is no record of projects from the Ada and Sege constituencies or Ada East and West districts.
In a response signed by the Deputy Chief Executive Officer, Corporate Communication and Compliance at CODA, Mona Gertrude Effah, granted partial access to a request made through Right to Information (RTI) by this reporter about projects and contact details of contractors in the two constituencies under IPEP since its implementation.
Contractors say they are not responsible for stall
According to documents available to The Fourth Estate, contracts for the construction of the ten projects in the Sege constituency were awarded to Bamabani and Brwomnmos Real Estate. Each company was tasked to construct five toilet facilities.
CODA failed to provide contact details for the remaining seven projects dotted across the Sege and Ada constituencies.
Contractor for Bamabani, Kwasi Nyanteh, who appeared distraught, revealed that CODA failed to honour financial obligations for them to complete the project.
''I started everything, and I was consistent. But when I wrote and they were not minding me, that is why I stopped. They said they are processing it, and nothing came for years. Anytime they give me something, I am prepared to go back to site immediately,'' he declared.
And so, Nyanteh's five awarded contracts in Nakomkorpey, Agbedrafor, Lolonya, Toflokpo, Ajumanikope, and Matsekope will continue to rot until he receives payment.
On his part, the contractor for Brwomnmos Real Estate, Afolabi Abubakari stated:
"Everything was on course, devoid of financial constraints. However, some projects had received funding, with others yet to be paid after raising certificates. There was a small mess-up with the consultant transferring some documents through CODA but everything is okay and on course. They are working on stuff for everything to proceed and complete whatever is there".
 "Even pastors' wives, all of us do open defecation" – impact on health
Water-borne diseases, particularly diarrhea, remain a threat to public health as Ada continues to record the disturbingly high incidence. Over the three-year period between 2020 and 2022, the Ada East District Hospital (which has oversight in Ada West) recorded 2,729 diarrhea cases. In 2022, it recorded 681 cases.
Medical Superintendent at the Ada East District hospital, Dr. Philip Narh, attributes the numbers to open defecation and poor personal hygiene. He explains that causative organisms for the disease are found in fecal matter washed into water bodies that serve domestic purposes.
"Houseflies and other flies spread the germs. When it rains the water moves the faeces into river bodies, and streams, and when this water is used, it turns unhygienic. Also, fruits and vegetables that grow in these areas get contaminated with the germs," he said.
In Sege, Nakomkorpey, Adjumanikope, and Agbedrafor, even though the community members have admitted that open defecation is a menace, they have no other means. They say they are aware that the situation has adverse health implications for them. They note that when it rains, it washes the fecal matter into the rivers on which they depend for drinking and cooking.
''You think if we have a toilet facility, we will be facing each other in the bush? Till we get somewhere befitting, I don't think defecating openly will end today despite the health challenges we face. Even pastors' wives, all of us do open defecation, and it is not helping us, but we don't have anywhere to do it,'' an Adjumanikope resident said.
You may also read: 
Ada East incurs GHS400k "avoidable" judgment debt, court wants assembly officials surcharged
"Stop requesting information from the assembly; we won't provide it" — Ada West DCE rubbishes RTI law