Two environmental non-governmental organisations have asked for investigations into why only two Chinese nationals are in Ghana's prisons in spite of the hundreds arrested over the years for illegal mining.
Ghana Environmental Advocacy Group and Arocha Ghana said they were highly disappointed at how the Chinese arrested for illegal mining got away with their crime.
They have, therefore, petitioned the Attorney General and Minister of Justice, the Inspector General of Police, the Chief Justice and the Ghana Immigration Service to investigate the matter.
"To read that those arrested end up quietly deported to their home countries with their loot without any further consequences while the state and local communities are left to reel under the weight of the environmental degradation they leave behind is both unconscionable and irresponsible," the petition said.
The petition followed The Fourth Estate publication on July 20, 2022, which revealed that although hundreds of Chinese nationals were arrested for engaging in illegal mining (galamsey) in Ghana from 2012 to date, only two were in Ghanaian jails.
The petition, which was signed by Elizabeth Allua Vaah and Seth Appiah-Kubi, observed that it was no secret that the kind of illegal mining most foreign nationals engaged in caused some of the worst environmental damage to Ghana's water bodies, lands and forests.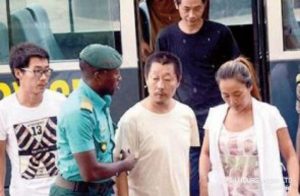 In May 2017, a notorious Chinese female illegal miner, En (Aisha) Huang, nicknamed the "queen of galamsey", was arrested and put before court, but deported in December 2018 with the tacit endorsement of public officials.
These officials include the former Attorney General and Minister of Justice, Gloria Akuffo; the then Senior Minister, Yaw Osafo-Maafo; and a former Minister of Lands and Natural Resources, Kwaku Asomah-Cheremeh.
Aisha was charged with three counts of undertaking small-scale mining operations, contrary to Section 99 (1) of the Minerals and Mining Act, 2006 (Act 703); providing mining support services without valid registration with the Minerals Commission, contrary to the Minerals and Mining Act, 2006 (Act 703); and the illegal employment of foreign nationals, contrary to the Immigration Act, 2000 (Act 573).
The other four accused persons were charged with disobedience of the directives given by or under the Immigration Act, 2000 (Act 573).
Aisha was arraigned before the court on May 9, 2017, for engaging in galamsey activities at Bepotenten in the Amansie Central District in the Ashanti Region.
However, on December 19, 2018, the Attorney General filed a nolle prosequi to discontinue the trial and subsequently deport the culprits.
The petitioners say Aisha's deportation set a bad precedent.
"Since her arrest and very controversial deportation, there has been other countless, highly publicized arrests with pictures showing disturbing environmental degradation arising from the actions of these culprits.
Criminals negotiate way out?
"The posturing by our justice system, indicating that foreigners can 'negotiate' their way out of punitive penalties after committing environmental crimes is scary and does not bode well for our justice system, perpetuates impunity and erodes public confidence in the justice system. This lapse in the system also erodes the moral authority of our courts to enforce the law without fear or favour among citizens," the petition said.
To make the punishment for breaching Ghana's mining laws stiffer, the Akufo-Addo administration amended the Minerals and Mining Act in 2019.
The new law criminalises aiding and abetting illegal mining activities and the use of unapproved equipment for mining in water bodies.
It also prescribes a minimum sentence of 15 years and maximum of 25 years for foreigners who engage in illegal mining.
Making reference to  Minerals and Mining (Amendment) Act, 2019, Act 995, Section 99 (3) and (4), the petitioners wonder if the lack of punishment for foreigners could "be the reason why galamsey continues unabated with impunity defying all efforts by government to halt."
The petition called on  the Chief Justice, the Attorney General and Minister of Justice, The IGP and the Ghana Immigration Service to, as a matter of urgency:
Share with Ghanaians the number of foreign nationals arrested for engaging in illegal mining in Ghana and their nationalities.
Number of those arrested that are currently in jail
Number of those who have been released and for what reason (s)
Number of those deported and under what conditions
Number of such deportees who have returned and
Measures that have been put in place to ensure that new people coming do not engage in illegal mining in Ghana.
Meanwhile, almost four years after her deportation, Aisha Huang has been re-arrested in Ghana engaging in the very activity that got her arrested, charged and deported.
Reports say Aisha and three other accomplices have been charged with mining without license and engaging in the sale and purchase of minerals. They are expected to reappear in court on September 14, 2022.