A Convenor of Pro-NPP group, #Fixingthecountry, Hopeson Yaovi Adorye, on March 10, 2022, made a Facebook post claiming that the National Democratic Congress (NDC) administration had spent $131 million on capacity building.
In that same post, Mr Adorye, who is also a former Deputy National Security Coordinator in charge of Airports, cited PIAC as the source of the information.
Fact-Check Ghana has verified the claim and presents the facts below.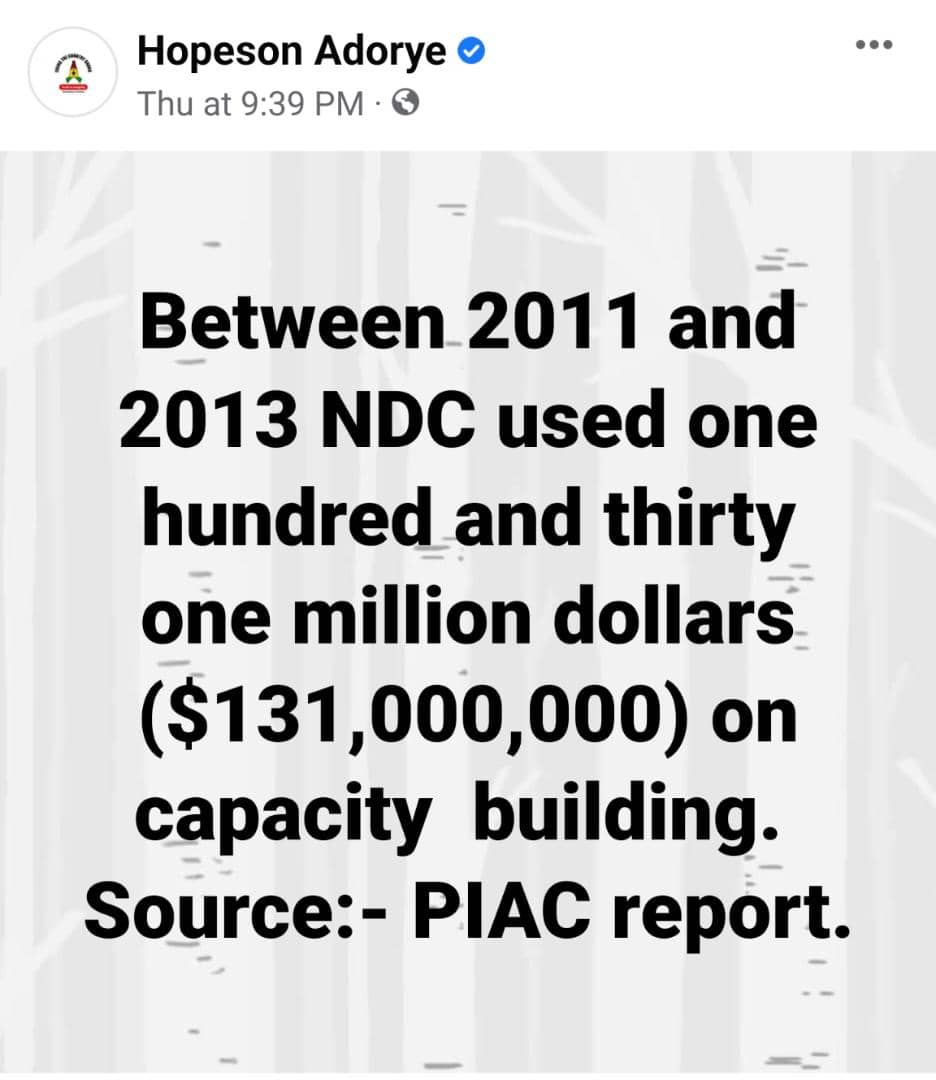 CLAIM: Between 2011 and 2013 NDC used one hundred and thirty-one million dollars ($131,000,000) on capacity building.
VERDICT: Completely False
EXPLANATION: The Public Interest and Accountability Committee was launched in 2011 as an independent body to monitor the management of Ghana's petroleum revenue. This was to ensure transparency and accountability in line with the Petroleum Revenue Management ACT 2011, (Act 815).
The committee has since released annual reports to update Ghanaians on oil revenue generated over the years and how they were spent.
To mark its 10th anniversary, the committee reviewed Ghana's management and use of petroleum revenue over the period.  The report was launched on Tuesday, March 1, 2022. The report indicates that about US$31.22billion had been generated from Ghana's three producing fields–the Jubilee, Tweneboa-Enyenra-Ntomme (TEN), and Sankofa Gye-Nyame (SGN)–in the last decade.
Out of the amount generated, Ghana earned US$6.55 billion, an equivalent to 9.97% of the country's gross domestic product. Out of the amount Ghana earned, US$2.6 billion representing 40% was allocated to the Annual Budget Funding Amount, under which the capacity building falls.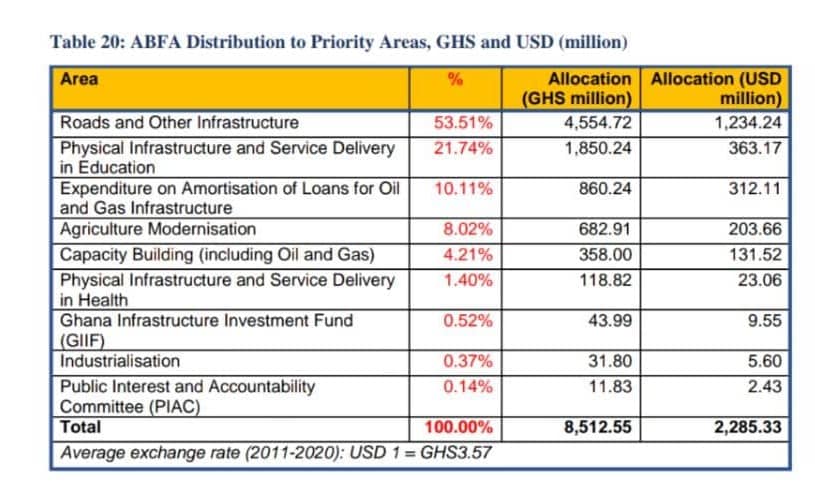 The table above shows how much was allocated for each priority area. In that same report, GH₵358million, the equivalent of US$131.52 million, was spent on capacity building.
But that amount was spent in 10 years (2011-2020) covering the Mills, Mahama, and Akufo-Addo administrations and not between 2011-2013 as Mr Adorye speculated in his Facebook post.
Figures from PIAC show that from 2011 to 2013, the NDC administration spent a total of GH₵132,893,097 (about $37,224,957.14) on capacity building, not $131 million. Below is the breakdown.
| | |
| --- | --- |
| Year | Amount/percentage |
| 2011 | GH₵750,000.00 |
| 2012 | GH₵111,959,738 |
| 2013 | GH₵20,183,359 |
| Total | GH₵132,893, 097 |
Source: PIAC, 2022
Based on the data provided in the PIAC report from 2011 to 2013, Fact-Check Ghana concludes that the claim by, Hopeson Adorye, a 2020 NPP parliamentary candidate, is completely false.
Editor's Note:
Our report states that $131.52 million captured in the PIAC report covered the expenditure on capacity-building for the 10-year period (2011-21) which included the John Mahama and Akufo-Addo's administration. Further checks by the team indicated that even though the PIAC report covered a 10-year period, the expenditure on capacity-building covered only the period of 2011-2016 and not the entire 10-year period. This means Hopeson Adorye's claim is still false as his post indicated that the entire amount on capacity building was spent from 2011-2013.