He was a little dark man oozing with confidence but had a gloomy face. His unblemished sartorial elegance coupled with his charismatic presence made him stand out. However, something was amiss.
His eyes were sunken. I quickly looked away when our eyes met and continued trekking. This was at Kingsway, a commercial street in Cape Coast.
About five minutes later, something caught my attention on my way to the Kotokuraba market. The same young man was about ten meters behind me. I quickened my pace, not because of fear, but because something about him made me uncomfortable.
He kept following me until I lost him when I got to the market. It was supposed to end there.
But it did not.
I was busy haggling over prices with the market women that morning when I felt a tap on my buttocks.
Swiftly, I turned to find out who in this world would attempt that.  It was the same man I met earlier. Shocked and frightened, I could not react.
He disappeared into the crowd only to reappear minutes later. This time, I did not feel the tap due to the jostle and bustle of the market women. However, a woman slapped someone behind me, and guess who the recipient of the slap was?
The same gentleman I met earlier.
The woman's reason for dishing the slap? She had seen the gentleman tap my buttocks. She explained that he was a mentally challenged man, and that was when fear gripped me. I may just have been lucky to have only received a tap. It could have been worse because there are fatal examples.
Prevalence of mental health
In August 2022, a mentally unstable woman stoned a young man to death at the Kwame Nkrumah Circle, a commercial hub in Accra. The young man, who was believed to be a motor rider, could not get a second chance at life. Ghana's poor mental health institutions could have easily kept this deranged woman in a hospital or treated her and she wouldn't have posed a threat to society.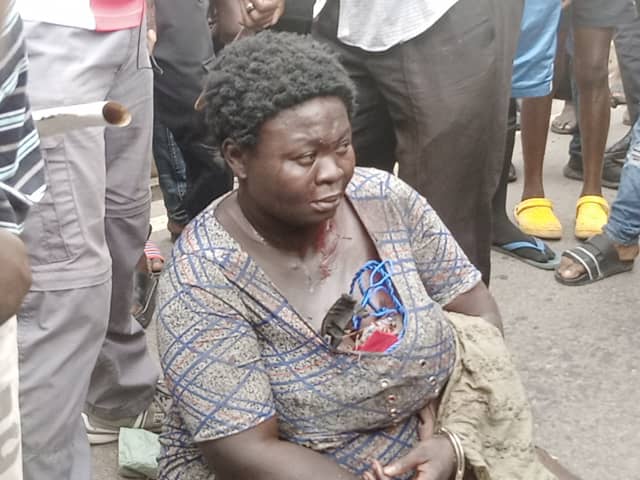 In September 2022, another mentally challenged man hit an ambulance driver in the Bole District hospital with a cement block. The victim was on a phone call near the suspect's sleeping place in a nearby school. The victim was immediately rushed to the hospital but he died from the attack.
Early this year, The Fourth Estate told the story of a mentally unstable man who stoned his mother to death in Zorkor in the Upper East Region.
These are not isolated cases. Eight days after the Bole incident, a video of a mentally challenged man hitting a young man suspected to be in his twenties surfaced online.
In 2019, a mentally challenged person murdered and cooked his 30-year-old wife in the Kwahu North District of the Eastern Region.
The mentally sick are not only predators. They are victims too. In 2019, a mob lynched a mentally-sick man who allegedly killed a man at Dansoman in Accra.
Even though there are no figures on the number of persons who are killed or injured by people with mental health, the examples above and other undocumented attacks are worrying.  Unfortunately, the stigma surrounding mental health issues also prevents many Ghanaians from seeking the help they need.
According to 2022 UN data, nearly 1 billion people in the world have some form of mental sickness. In Ghana, an estimated 650,000 people suffer from severe mental illness, with an additional 2.2 million affected by mild to moderate mental illness. Despite these staggering numbers, only 1.17% receive treatment, an indication that little or no attention is paid to mental healthcare in Ghana.
Causes of mental health
The causes of mental health disorders in Ghana are complex, multifaceted, and sometimes, interlinked. Poverty, unemployment, lack of access to education and healthcare, drug abuse and failed relationships are key factors. Poverty is a harsh reality facing millions of people around the world. Research has shown that people living in poverty are more likely to experience mental health problems, such as depression, anxiety, and even schizophrenia. The stress and uncertainty that come with living in poverty can take a significant toll on a person's mental health, leading to feelings of hopelessness, helplessness, and despair.
Additionally, cultural beliefs and practices often stigmatise mental health issues, leading to discrimination and ostracization of those who suffer from them.
Management and treatment of mentally unstable patients
I was at the Ankaful Psychiatric Hospital in the Central Region in 2018 and witnessed the squalid conditions under which mental health patients received medical care.
The conditions there are inhumane, but hundreds of mental health patients are there because they have lost their voices and have no one to speak for them. Society does not appear to care because mental health facilities are not the ones patronised by the average person with ill-health.
In 2021, the Mental Health Authority revealed that there were about 20,000 mental patients roaming the streets of Ghana, with 1,600 of them in Accra and Tema alone.
In response to the increasing number of mentally sick on our streets, the Mental Health Authority said it had developed a four-year strategic plan to rid the streets of all mentally unstable persons. This was in 2019. But four years into the plan, the programme has stalled because of the lack of funds to implement it.
Mental Health Development fund
One of the biggest challenges facing mental healthcare in Ghana is the lack of resources and infrastructure. Mental health services are severely underfunded, with only a handful of psychiatric hospitals and clinics across the country. This means that many Ghanaians do not have access to healthcare.
Another issue is the shortage of mental health professionals. In October 2022, the World Health Organisation estimated that there are only about 39 psychiatrists in Ghana. That is a ratio of one psychiatrist to every 100,000 mentally sick. The shortage of professionals makes it difficult for people to receive proper diagnosis and treatment.
In 2021, the Minister of Health, Kwaku Agyemang Manu, revealed that the Ministry of Health was considering introducing a mental health fund. This was to help in the successful implementation of Ghana's mental policy. The policy is expected to improve mental healthcare delivery.
But two years after this lofty announcement, nothing has been heard of either the mental health policy or the mental health fund.
Little or no attention is paid to the mental health sector. The sector continues to endure lip service while the number of mentally ill flood our streets at the cost of innocent lives. While the mentally ill who are fortunate to find their way to hospitals struggle to get treatment, the plight of the health professionals who care for them is no different.
They are stigmatised and discriminated against by members of the public who paint them with the same brush of prejudice as the patients they cater for.
Achieving Ghana's Sustainable Development Goal on health means maintaining the social and mental well-being of the individuals.
The government is capping funds from the NHIS levy and channeling it into almost everything else but mental health. The street executions carried out by the mentally ill should alarm the nation and cause the government to act because we are all potential mental patients or victims of the mentally ill.