There's a new virus going round in Ghana. It may not be as deadly as COVID-19 or the influenza that is giving life to the nose mask business again.
But it is depressing. It's called PEB— Post Election Blues. The symptoms? Grumbling, a mixed feeling of self-pity and regrets, resentment and smoldering anger towards the government.
The cure is a good governance vaccine. But it appears in the midst of the challenges with COVID-19 vaccines and the Russian-Ukraine war, we've run out of wisdom to produce this vaccine.
When Ghanaians went to the polls and elected the New Patriotic Party (NPP) in 2016 and 2020, we thought we found the perfect solution to a virus of economic instability, corruption and mismanagement that plagued the nation under former President John Mahama.
The problem is, after six years in office, President Akufo-Addo and his administration have proven to be the wrong antidote.
At a time, we need a vaccine with ingredients including integrity, transparency, accountability and a stable economy desperately, President Akufo-Addo and his band have simply lost the plot.
When he stood before Ghanaians in 2017, the President swore to defend the public purse – a pledge he had repeated on countless occasions on the campaign platform.
But the mounting public debt, high cost of living, corruption, nepotism, cronyism and the shifting goal posts on his promises have shredded the pledges and goodwill the government enjoyed.
If I had any belief that the president and his finance minister had an agenda to fix the difficulties facing the country, I discarded that on my way to work on Monday, June 13, 2022.
The Finance Minister, Ken Ofori-Atta's comments when he appeared on GTV's Talking Point programme clearly showed the government's misplaced priorities. Neither did our white-cloth-wearing, bible-quoting finance minister disappoint his critics in making an absurd case for the President's private pledge nor did he explain the gross violation of Article 178 of the 1992 Constitution.
That constitutional provision states that:
No moneys shall be withdrawn from the Consolidated Fund except
a. to meet expenditure that is charged on that Fund by this Constitution or by an Act of Parliament; or
b. where the issue of those moneys has been authorised
i. by an Appropriation Act; or
ii. by a supplementary estimate approved by resolution of Parliament passed for the purpose;
or iii. by an Act of Parliament enacted under article 179 of this Constitution; or
iv. by rules or regulations made under an Act of Parliament in respect of trust moneys paid into the Consolidated Fund.
2. No moneys shall be withdrawn from any public fund, other than the Consolidated Fund and the Contingency Fund, unless the issue of those moneys has been authorised by or under the authority of an Act of Parliament.
According to Mr Ofori-Atta, while Ghana had achieved tremendous success on the political and economic fronts with tangible monuments to show, it lacked a symbol of spirituality, hence the need for the National Cathedral.
"At any point in time when these buildings were built in Europe, was it ever the right time? How do we fund it? will become the question. Is the executive mindful of the current situation? We shouldn't snuff out our religiousness or spirituality because we are poor. The Lord will understand if we put our widow's mite in there," he said.
Mr Ofori-Atta, who is seen as an apostle of piety, has been on a flip flop ever since he announced the cathedral project in parliament in 2019.
The cost of that project has moved from $100 million, to $ 250 million through $300 million, but the Ghanaian taxpayer will now be billed $350 million to build a house for a God who lives in hearts.
In the last three years, Mr Ofori-Atta and the government's praise singers have not been truthful to Ghanaians. I wonder how anyone would think that a cathedral built on a foundation of deception will please God.
The government has been dodgy and cunning about what the state kitty will pay in support of a project that has already cost us millions in state properties, including the passport office, judges' homes, the scholarship secretariat and the residence of the Malian Ambassador to Ghana.
Even more sly is the decision not to tell us how much the so-called seed money will cost us. We've already blown GHc 200 million into the project without parliamentary approval.
If the finance minister has a message of religiosity and spirituality for us, it should start with propriety within his ministry.
While he jumps on a high horse to jibe critics of the government, his ministry has been cited as the most reckless when it comes to fiscal responsibility between 2015 to 2020.
This is according to data from the Fiscal Recklessness Index 2020 report released by Imani Center for Policy and Education and Oxfam Ghana, which ranked financial irregularities for ministries, departments, and agencies within the five-year period.
Ken Ofori-Atta was not in office in 2015 to 2016. But what has happened under his watch from 2017 to date should leave him worried.
"Two key irregularities account for the trend observed at the Finance Ministry: (1) tax irregularities and (2) cash irregularities. For example, the Finance Ministry is responsible for 99.63% (GHc9.10 billion) of the combined GHc9.12 billion tax irregularities from 2015 to 2020. Likewise, the Finance Ministry accounted for 80.10% (GHc 2.35 billion) of the combined GHc2.93 billion cash irregularities from 2015 to 2020," the report said.
The Auditor-General's Report also sings from the same hymn book about financial irregularities involving the Ministry of Finance.
It is, therefore, baffling that the man who heads the most financially irresponsible institution in Ghana is preaching spirituality to us.
It appears Mr Ofori-Atta can't resist the temptation of annoying us whenever he gets the opportunity to speak about the cathedral.
Hear him in 2019:
"From 1957 to where God has brought us and the blessings, He has given us and now a small land we are giving to God should rather be given to real estate agents? I get afraid because we are a Christian country, even if we don't do it, the stones themselves will get up and do it," he told Asempa FM in defence of the decision to build the cathedral at that location.
Isn't it obvious that most Ghanaians are against the construction of the cathedral, which should give him the opportunity to rally his stones to work?
Ghana does not need the Cathedral of all cathedrals to turn the clock of moral degeneration. In the last 30 years, we have built more mega churches than ever before, but corruption is getting worse.
Our performance on the corruption barometer, the Corruption Perception Index, continues to give us annual migraines.
There is nothing spiritual about building a cathedral when our hospitals lack beds, when God's children share drinking water with animals, when children lie on their bellies to learn, when congested public senior high schools are running shifts because of lack of facilities.
Mr Ofori-Atta's sense of propriety needs raking for him to see the desperate needs of people who rely on the Livelihood Empowerment Against Poverty (LEAP) programme, whose pittance of allowances have been in arrears for months.
Comic analysis
In trying to justify this misplaced importance, he played with Israel and Saudi Arabia's tourism figures.
"Constructing such a facility secures a steady arrival of religious tourists. Israel hosts more than four million people annually with an associated $6 billion contribution to the economy. The Hajj pilgrimage on the other hand brings in 2.5 million attendees, with an associated economic impact of $8 billion," he said.
How sad.
The idea of comparing tourism figures from Saudi Arabia and Israel where the footprints of Christianity and Islam could be traced makes Mr Ofori-Atta's analysis comical.
What makes Ghana an attractive destination for Christian pilgrims? A cathedral?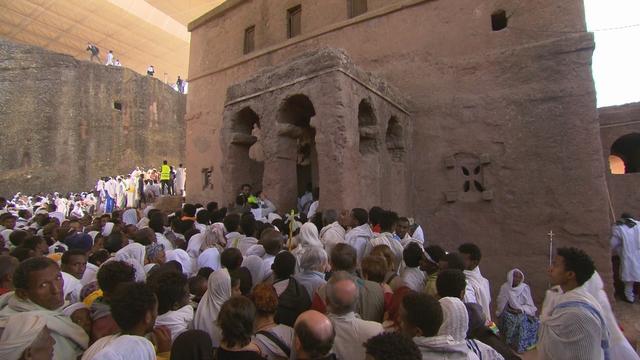 Even Ethiopia, Africa's 'Jerusalem,' famous for its rock-hewn churches in Lalibela does not attract more than 100,000 people annually to such world heritage sites.
We know that President Akufo-Addo and his finance minister are not thrifty because they were not born into a family of straw. But sadly, the reality hasn't dawn on them that they're managing the purse of people who live frugal lives and that the choices of the administration must reflect the priorities of these poor people.
We didn't elect them to fix our spiritual deficits. We have been battling that with our spiritual leaders, some of whom have been hoodwinked into applauding this misplaced priority.
If there is anything we need right now, it is the common sense to fix the needs of the distressed Ghanaian and not a grandiose cathedral promised God in Jerusalem.
YOU MAY ALSO WANT TO READ:
The students who are taught how to cry
Billions in the bush: 8 hospitals delayed, abandoned